French filmmaker Claire Denis brings this deep space voyage "High Life" with a much more complex subject line as the trailer leaves no clue of what we might expect in the film. What we see in the trailer is that a father and daughter live aboard a spacecraft in complete isolation which probably explores more about human emotion and condition.
Starring Robert Pattinson, Andre 3000, and Juliette Binoche, the film looks really promising. Although a science fiction movie, "High Life" seems more like a psychological thriller. The movie as per the plotline follows a group of death-row inmates who are given a chance to go on a space mission as a study to extract energy from a region close to a black hole.
Official Synopsis – "High Life"
Deep space. Beyond our solar system. Monte and his infant daughter Willow live together aboard a spacecraft, in complete isolation. A solitary man, whose strict self-discipline is a protection against desire – his own and that of others – Monte fathered the girl against his will. His sperm was used to inseminate Boyse, the young woman who gave birth to her. They were members of a crew of prisoners: space convicts, death row inmates. Guinea pigs were sent on a mission to the black hole closest to Earth. Now only Monte and Willow remain. And Monte is changed. Through his daughter, for the first time, he experiences the birth of an all-powerful love. Willow grows, becoming a young girl, then a young woman. Together, alone, father and daughter approach their destination – the black hole in which all time and space cease to exist.  
Watch the Movie Trailer – "High Life"
"High Life" has its world premiere at the 2018 Toronto International Film Festival (TIFF) and will be released in France on November 7. Moviegoers will have to wait until next year for its worldwide release.
Cast: Robert Pattinson, Mia Goth, Juliette Binoche, André Benjamin
Director: Claire Denis
Screenplay: Claire Denis, Jean-Pol Fargeau, Geoff Cox
Genre(s): Adventure, Drama, Science Fiction
Release Date: November 7, 2018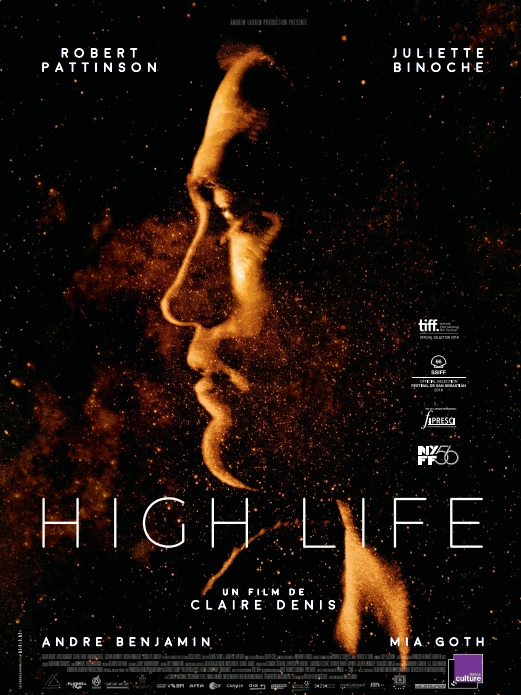 Where to watch High Life (2018)
Disclaimer: The images and/or videos used are not owned by Cinecelluloid. No copyright infringement intended.