Many actors can impress you either with their good looks or acting skills, but there are very few actors who have both good looks and unique acting skills. Tom Hardy is one of those actors who can amaze the audience with his natural skills of acting and in the last couple of years he has done fantastic films which every cinema lover must have enjoyed.
Tom Hardy is famous for his action movies, but he has also done many intense drama films which show his actual acting skill. However, we have prepared a list of best movies of Tom Hardy which you should not miss. 
Tinker Tailor Soldier Spy (2011)
If you are the fan of dark spy movies, then this one is for you. In this film, all the famous actors like Gary Oldman, Benedict Cumberbatch, and Tom Hardy acted brilliantly. Tinker Tailor Soldier Spy is the story of retired spy who is assigned to solve a mysterious and danger case along with his colleagues. This film is completely different from any other classy spy movies, and that is the reason very few people will enjoy this Cold War based espionage film.

Locke (2013)
Locke
is the story of Ivan Locke (Tom Hardy) who is traveling from Birmingham to Croydon in his Car, and during this journey, he has to solve the biggest problems of his life only through a cell phone. This film shows us the problems which Ivan Locke is facing and how he solves these problems alone during a journey by calling everyone on their cell phone. Tom Hardy has proved by doing this film that he is one of the best actors working in the industry.

The Drop (2014)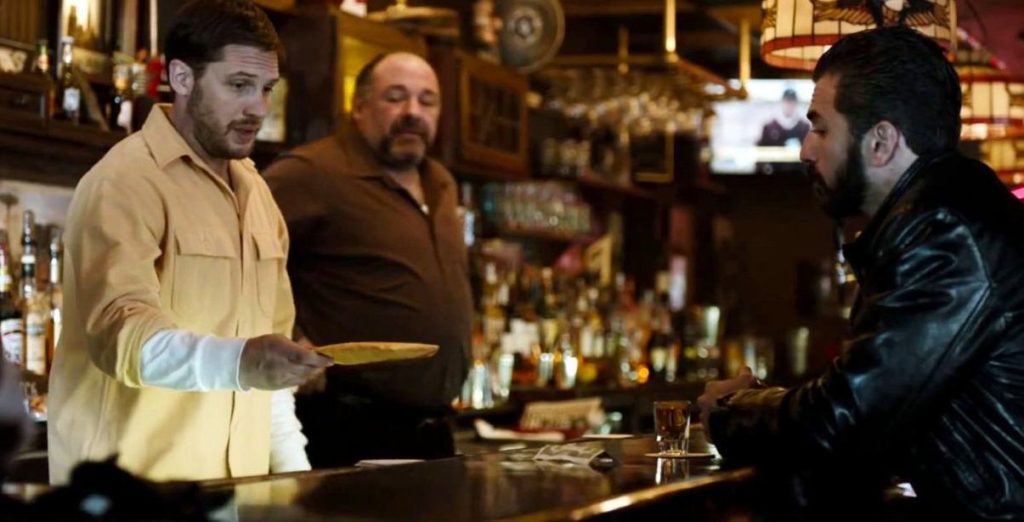 This film is crime-thriller about a bartender (Tom Hardy) who works at his cousin's bar. The Bar is used by some local gangsters to launder their money and when the money gets stolen the Bartender (Tom Hardy), and his cousin (James Gandolfini) find themselves in big trouble. Hardy played the role of Bob with such an authentic nature that it is utterly breathtaking. After watching this film, it seemed to me that no one could have played the role of Bob better than Tom Hardy.
Lawless (2012)
Lawless is one of those fantastic action movies which one should not miss. The story follows the three brothers of Bondurant family who goes on a war against the local police and some criminal gangs to defend their illegal business. This film stars Tom Hardy, Shia LaBeouf, Jessica Chastain and Gary Oldman in the leading roles. However at many levels, Tom Hardy surpasses many actors in this action packed film with his extraordinary acting skill and unique voice.
Bronson (2008)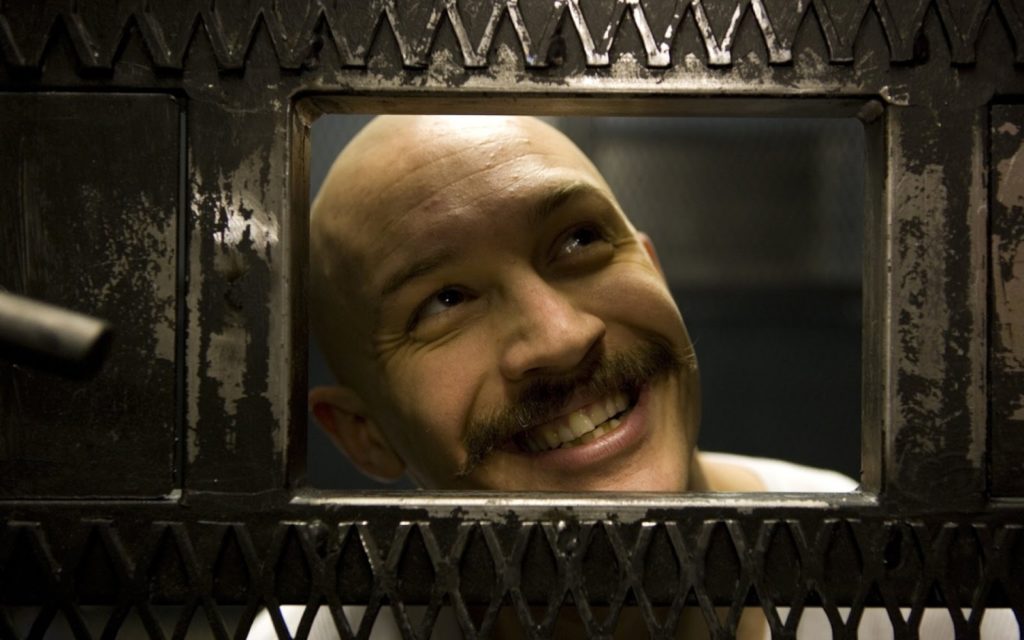 Nicolas Refn has written and directed this movie, which is based on the life of the Britain's most violent criminal of all time.
Bronson
movie shows us that a man can cross any limits if he is determined to make a name for himself. It is the story of an overambitious man who wants to make a name for himself by doing some illegal activity but ends up being a prisoner for almost 30 years. I was surprised by the performance of the Tom Hardy in this dark, violent film. If you have watched this movie, then you will know how much effort Tom Hardy can put into a character to make it surreal.
There are very few drama films in which Tom Hardy acted and Warrior is one of those. Warrioris one of those sports dramas which can amaze the viewer with its fantastic script and brilliant acting by all the actors. It is a tale of two step brothers who unknowingly face each other during a mixed martial arts competition. There are many emotional scenes in the film which can make you feel low, and surprisingly Tom Hardy yet again proved his acting prowess by doing this remarkable film.
Mad Max: Fury Road (2015)
Mad Max: Fury Road is a post-apocalyptic movie, in which two rebels' fight against a cruel ruler and these rebels are the only hope for some people. It is a film which is smartly written and directed by the George Miller. Mad Max: Fury Road has back to back top notch action scenes with astonishing background score. If you like the movies which have crazy action scenes with the background of rock music, then this one is for you. Tom Hardy played the character of Max flawlessly, and the performance of Charlize Thereon was also quite impressing in this movie. This film is one of the best war movies of 2015, and one should not miss this epic action movie.
The Dark Knight Rises (2012)
The Dark Knight Rises is amongst those films of Tom Hardy in which he gave the performance of his life. He played the role of Bane who is more muscular, violent and scarier than Batman himself. The voice which is used by the Tom Hardy in The Dark Knight Rises is dark and the most influential voice any villain had in the history of cinema. Heath Ledger redefined the character of Joker by giving his impressive performance in The Dark Knight, and so did the Tom Hardy in The Dark Knight Rises.
So this is the list of best movies of Tom Hardy, and we hope you liked it. If you have any other suggestions regarding this post, then please let us know about it. We will try to update this list of Best movies of Tom Hardy.
This is a guest post by Mr. Venkatesh Joshi from iflashymovies.com (this site seems to be not working) and if you like reading this guest post then please visits his site for getting more information relating to movies and related stuff.

Disclaimer: The images and/or videos used are not owned by Cinecelluloid. No copyright infringement intended.