The new film in the "Terminator" franchise 'Terminator Genisys' so far doesn't have a great run in the Box Office, compared to its earlier films. But is it right to bring the film down considering the overall success of the franchise? I guess NO. Terminator Genisys has been in competition with the likes of Jurassic World and Inside Out, then any such reboot with the slightest less entertaining factor can have a negative impact. Moreover, in the coming weekends, there are a few more films released which may even further block its overall success.
Coming back to Terminator Genisys, this time the success of the franchise ultimately banks on both the star power of Arnold Schwarzenegger as well as the history of the franchise itself. Director Alan Taylor has certainly done a great job but things that went against the re-launch of the franchise are the loopholes in the storyline.
For many, it's surprising that James Cameron's sci-fi classic is rebooted in such a fashion, especially when there is a plan for a new trilogy, taking this one forward. Other than the wasted time in the middle of the film, I take this beginning of this new trilogy in a positive way. So first, let's check out the plot:
When John Connor (Jason Clarke), leader of the human resistance, sends Sgt. Kyle Reese (Jai Courtney) back to 1984 to protect Sarah Connor (Emilia Clarke) and safeguard the future, an unexpected turn of events creates a fractured timeline. Now, Sgt. Reese finds himself in a new and unfamiliar version of the past, where he is faced with unlikely allies, including the Guardian (Arnold Schwarzenegger), dangerous new enemies, and an unexpected new mission: To reset the future… [©Paramount Pictures]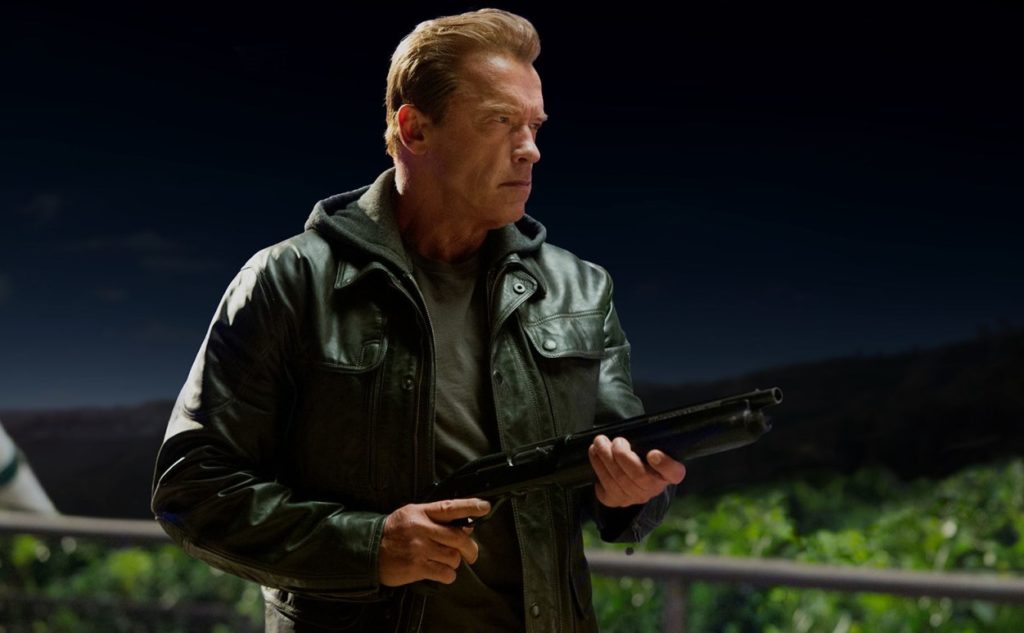 So the film starts in the year 2029 when John Connor leads the human race in the fight against Skynet. Connor and his team upset Skynet's headquarters in one resistance attack and capture its time machine, but not until Skynet sends a T-800 back to 1984 in order to kill John's mother Sarah Connor before she can give birth to John.
In order to save his mom, John sends Kyle Reese back in time but as soon as he arrives, he meets a different Sarah, at least not a naïve and offhanded lady, who had already disabled Skynet's T-800 and is with a reprogrammed T-800 Guardian sent from an unknown origin. This shows that the timeline has already been altered, which Kyle had sensed while being transferred to the past.
Without going further deep into the storyline, anyone may question the origin of the T-800 Guardian and from which unknown timeline it's been sent to protect Sarah. Another question is what is this mother-lover-son angle, and if so why the makers did not go deep into it? And finally, with so much time travel and shapeshifter in this story, it simply takes away everything with confusion. Barring these observations, I must say that Terminator Genisys is pretty fine for the new-age audiences who are yet to explore the franchise.
I don't think it's fair enough to compare Genisys with either The Terminator (1984) or Judgment Day (1991). No other Terminator movie has been cinematically better than the first two installments. Nevertheless, as the Terminator character repeatedly insists in the story, he's old but not obsolete, and the challenges were somehow clear to the makers. Thus, it would be interesting to watch the next in line, if ever the makers come with the sixth movie (I'm sure they will).
Genre: Sci-Fi
Starring: Arnold Schwarzenegger, Emilia Clarke, Jai Courtney, Jason Clarke, Matt Smith, Byung-Hun Lee, and JK Simmons.
Directed by Alan Taylor
Cinematography: Kramer Morgenthau
Music by Lorne Balfe
Release Date/Year: July 1, 2015
[Photos: Paramount Pictures]
Where to watch Terminator Genisys (2015)
Disclaimer: The images and/or videos used are not owned by Cinecelluloid. No copyright infringement intended.