A PRAYER BEFORE DAWN, directed by Jean-Stéphane Sauvaire, started out unsettlingly similar to any other prison drama. But when we get used to the tone, we see just how cruel and realistic this movie is. Yes, it is based on the real-life experiences of young English boxer Billy Moore.
Based on the memoir by English boxer Billy Moore who was incarcerated in two of the notorious prisons in Thailand, "A Prayer Before Dawn" follows his life and struggle. Hooked into the world of drug addiction, he soon found himself inside the prison, as he started confronting the reality of the prison world.
Being a trained Muay Thai boxer while it was easy for him to protect himself, it was not easy for someone who is addicted and has no one to bank on, neither has a bank to feed the prison system. Billy Moore's struggle was to keep himself alive inside a terrible world of drugs and gang wars.
Watch the Movie Trailer –

"A Prayer Before Dawn"
Nevertheless, it's a true story in which the protagonist does his best to fight his way out of the stained prison life. In order to win his freedom, he seizes the chance to compete for the prison in Muay Thai boxing matches.
It's interesting to note that the movie was filmed in a genuine Thai prison, and some of the cast members are actual prisoners. As we watch Joe Cole shine as Moore in this horrible true story, the narration is wonderful.
"A Prayer Before Dawn" is one of those movies that is powerful enough to inspire, as we watch the character facing unimaginable agony inside a maximum security prison. The film is indeed a visceral portrayal of Moore's life that none of us can even imagine.
Cole has justified his role as Moore. From a demanding physicality to fighting skills and then at times living with harrowing silence, he is there at par with anyone. While most of the inmates speak in Thai language and only a few with their broken English, that language barrier would never be an issue to experience and appreciate this survival story.
You feel the rage, the shock, the pain, and the resolve to come out of this hell on earth. Joe Cole's acting, the great supporting cast including the real tattooed inmates, and Jean-Stehane Sauvaure's direction, together work wonderfully to make A PRAYER BEFORE DAWN – an immersive adaptation of the real-life story of survival and redemption.
Starring: Joe Cole, Vithaya Pansringarm, Panya Yimmumphai
Genres: Action & Adventure, Dramas, Biographical Dramas, Dramas based on a book
Director: Jean-Stéphane Sauvaire
The film is available for streaming on multiple platforms.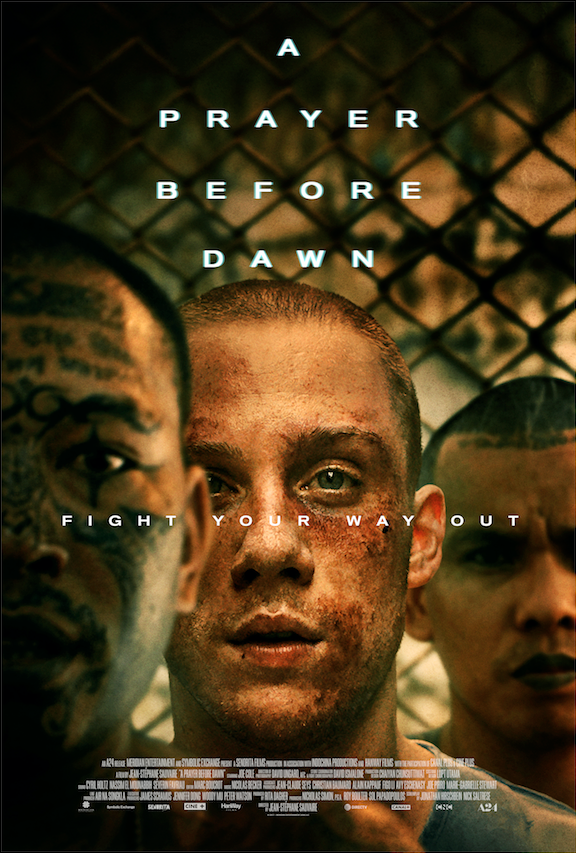 Where to watch "A Prayer Before Dawn" (2018)
Disclaimer: The images and/or videos used are not owned by Cinecelluloid. No copyright infringement intended.