Bridge of Spies is a Spielberg masterpiece that landed in Oscars with as many as six nominations and won Best Supporting Actor. Tom Hanks and Mark Rylance star in this Cold War sentimental suspense thriller that introduces you to the world of espionage.
The tagline of the movie Bridge of Spies reads: "In the shadow of war, one man showed the world what we stand for." The movie directed by none other than Steven Spielberg is a real-life thriller set against the backdrop of a series of historic events.
The film narrates the story of James Donovan, a Brooklyn insurance lawyer who finds himself thrust into the center of the Cold War when the CIA sends him on the near-impossible task to negotiate the release of a captured American U-2 pilot in exchange for a Russian (KGB) spy.
The movie which is based on Bridge of Spies: A True Story of the Cold War by Giles Whittell (first published in 2010) is a classic cold war espionage thriller with a sentimental twist when it portrays the friendship between a Russian spy and an American lawyer who finds every reason to fight for the fundamental rights of someone who is a Russian spy.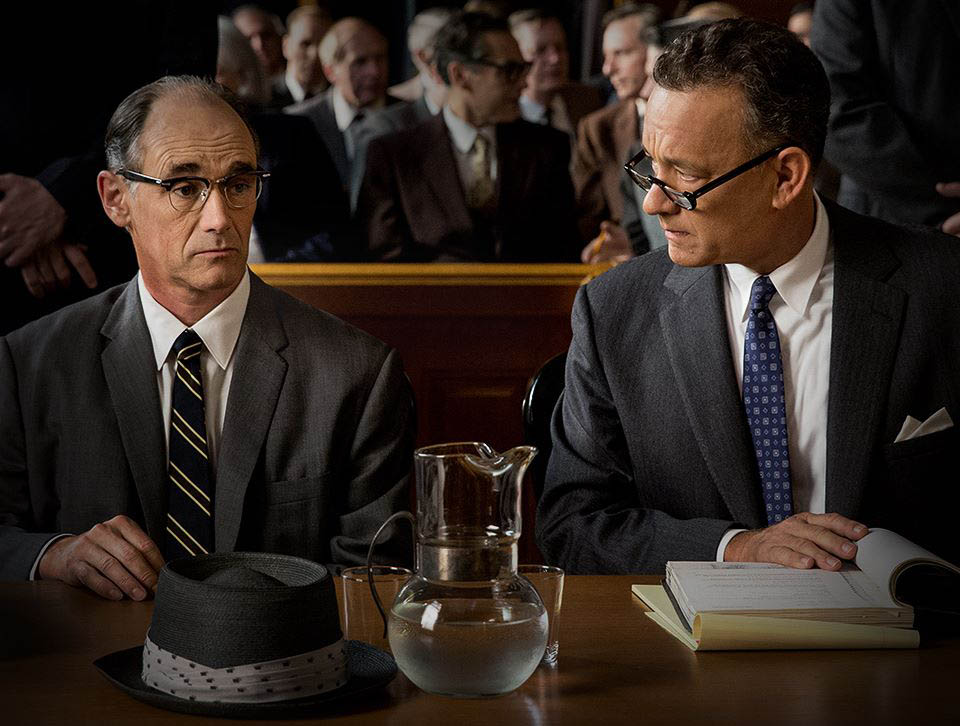 Certainly, it was any lawyer's duty to defend his client, irrespective of the fact whether he has committed any crime or not. However, in this film, everything comes in relation to the national interest, whether it's the United States, Russia, or Germany.
Bridge of Spies opens in a very peculiar spy den Brooklyn where a thin and drab middle-aged Abel (Mark Rylance) painting a self-portrait just looking at the reflection in the mirror. The next few frames of the screen only introduce you to Abel's sketches and a telephone call to which he only listens to the other end, thereafter retrieving some encoded message. Those first few scenes of the movie have no dialogues however very much live with the performance of Rylance that was masterfully crafted in a soul of silence.
As Abel gets arrested by the FBI and charged as a Russian spy, the Govt. of America roots for a show trial to prosecute him for anti-national activities. It was an upright insurance lawyer James Donovan (Tom Hanks) who was asked to appear for alleged Soviet spy Abel. Donovan certainly had two options, either to go with everyone's wish that he is going to lose the case considering the overwhelming disapproving view, including the Supreme Court judge or simply dig more and look for the least sentence possible, at least not the death sentence. Such circumstances set the tone of the movie and what you see later is written in history.
Bridge of Spies shows glimpses of every common aspect of that era as far as American society or a troubled Germany is concerned. This is about a man who fights for the basic values and the rulebook or constitution of America. This is a film about the essence of a man who risked everything and vividly brings his personal journey to life. This film is about the rulebook, which safeguards the rights of every American and which finally led Donavan to ask both Russian and German to free not one, but two US prisoners in exchange for Abel.
"What defines us both as American? It is the Constitution, that is the only rulebook," says James B Donovan to the CIA officer when Donovan was asked to share information on Abel in the name of national interest as per their agency rulebook.
Starring: Tom Hanks, Mark Rylance, Scott Shepherd, Amy Ryan, Sebastian Koch, Alan Alda
Genre: Dramatic Thriller
Directed by: Steven Spielberg
Release date: 16 October 2015
Produced by: DreamWorks Pictures/Fox 2000 [Photo Credit]
Where to watch Bridge of Spies (2015)
Disclaimer: The images and/or videos used are not owned by Cinecelluloid. No copyright infringement intended.