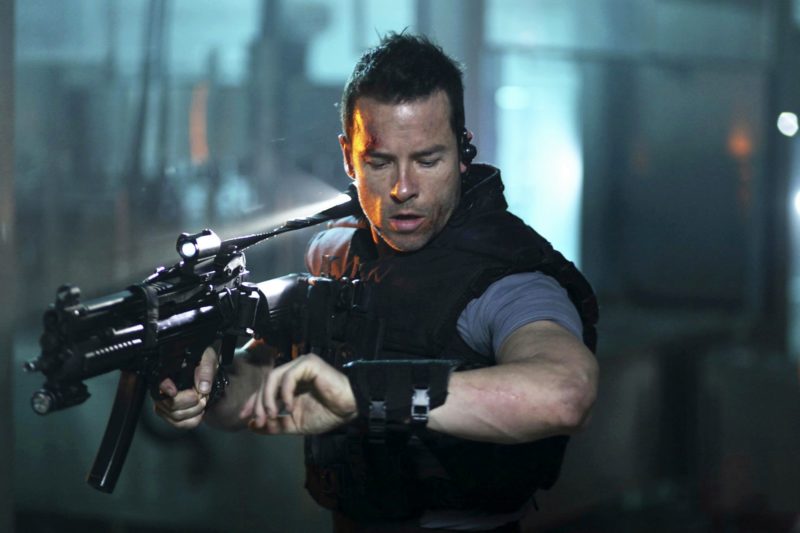 Last updated on June 15th, 2017 at 11:35 am
Directed by James Mather and Stephen St. Leger, Lockout is nothing more than a video game-esque sci-fi flick with no worth whatsoever. In this film, if there is one thing that I want to reveal straightway is the laughable yet entertaining performance by Guy Pierce, who unsuccessfully tried to save the film from slick dialogues and an overcooked plot.
Set in the near future (some 6o-odd years from now), the movie starts with Snow (Guy Pierce), a falsely convicted ex-government secret agent, who has been awarded a 30-year sentence at MS-1, a
maximum-security prison in outer space
. Ridiculousness takes steps when he is disposed to rescue the President's daughter Emilie (Maggie Grace) from rioting convicts and come out safely from MS-1, as a price to regain his freedom.
So, how did the President's daughter find herself aboard a maximum security space prison in the middle of the riot? Well, better not to go into that detail; it's a sci-fi film. Just to add a little more drama, one of Snow's friends is also in the prison who holds key to his freedom.
Lockout Trailer – starring Guy Pearce & Maggie Grace
If you think everything is fine till this screen, well there is more to come with lousy acting and stupidity all around you. Pierce along with bad guys led by cultured Alex (Vincent Regan) and his psychotic brother (Joseph Gilgun) somehow tried to come out from a loosely written script, but it all fell short.
Adding further glitch to your sense, the director certainly forgot what kind of film he is making; a sci-fi flick at least deserves some first-rate visual effects and good action sequences. The best example of one such terrible moment is the motor cycle chase, so dry and dull that it looks like a decades-old video game.
All in all it is all a mess. It is better to look for some of the finest video games to spend your weekend than to watch such a boring film. Yet, as I said, if there is one thing for which you would like to watch this movie is Pierce and his snappy dialogue delivery, at least you can laugh.
Starring: Guy Pearce, Maggie Grace, Vincent Regan, Joseph Gilgun, Lennie James and Peter Stormare.