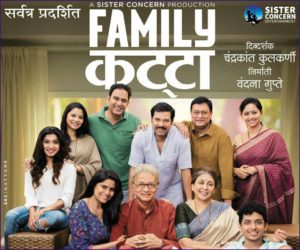 'Family Katta' is a Marathi film that pushes us into the very reality of present day Indian families. We can relate to every character in this movie, at least some we must have come across in our lives.
The film is not one of those happy ending typical family dramas, rather an honest attempt to present the hard-nosed truth in our materialistic live.
The story of 'Family Katta' goes like this: The heads of a splintered family, who are now living away from their married grown up kids, are trying to bring everyone together on their 50th anniversary. The older couple Bhai (Dilip Prabhavalkar) and Malati (Vandana Gupte) are trying to make this only family event different by taking care of the penchants of every family member. After all, being the parent – they know who loves what.
Just looking at the prospect for everyone to reunite after years and bury their past, forgive one another and be close again, is not what life always asks for in the end. The golden anniversary plan doesn't go down well with their wishes as the couple were tested to the limits of life. Even though 'Family Katta' doesn't have a happy ending, it opens our eyes in understanding life, giving value to the smallest of things and moments of happiness that bring us together.
'Family Katta' is amazing in every aspect. It's not just the story, which has its origin from a play, but also the cast with both old-timer and new actors delivering some of the finest performances. Even with smallest screen presence, the actors were on the spot in bringing out the emotions on stage.
Everyone must watch this movie, although I would recommend 'Family Katta' for those who are emotional in nature, or at least give value to families. Indian movie lovers can relate to the characters to the core, as the whole concept is deep rooted in Indian tradition. However, the film also has its universal appeal with values to relationships, family and those little moments of togetherness.
Watch the Movie Trailer for 

Family Katta
Director: Chandrakant Kulkarni
Starring: Vandana Gupte, Sai Tamhankar, Dilip Prabhavalkar,   Kiran Karmarkar, Prateeksha Lonkar, Gauri Nalawade, Alok Rajwade, Sachin Deshpande, Sulekha Talwalkar, Sanjay Khapre
Genres: Drama
World Cinema: Indian
Disclaimer: The images and/or videos used are not owned by Cinecelluloid. No copyright infringement intended.