When we look for sci-fi adventure or any of the apocalyptic movies, we tend to expect a lot away from our real life and that makes those interesting and watchable. However, this Michael Peña and Lizzy Caplan starrer Netflix's sci-fi fantasy thriller Extinction never really capitalizes on an original idea.
Extinction follows a family man Peter (Michael Peña) who lives with his wife Alice (Lizzy Caplan) and two daughters in a futuristic world. In the first few minutes we get to learn that he has recurring nightmares of losing his family, which further complicates his family as well as work life as an engineer.  
Peter in his visions sees some unknown enemy attacking our planet and killing scores of people. While his wife, Alice, asks him to go and see a doctor – he soon gets to know that there is something wrong and he should believe his visions. Soon, his nightmares turn real as he sees numerous spaceships invading the city and carrying out destruction all over.
Plot

Plagued by dreams of an alien invasion, a family man faces his worst nightmare when an extraterrestrial force begins exterminating Earth's inhabitants. 
Watch the Extinction movie trailer
Australian director Ben Young is a promising director but somehow the plotline which looks decent never really got a smart execution. While in the first few minutes the film asks us to guess whether Peña's character is crazy or not, it suddenly makes everything obvious and that kind of leaves less to explore the family side to connect each character.
I must also recognize the fact that Extinction has a great plot twist which is original. The tension was there, but the script and the pace of the film are way off the marks. Extinction is a movie with an alien invasion, but the act kind of floats in between an uneven pace and predictable script.
While the plot twist is a welcome one (too late though), the climax is unfathomable. We don't get any sense of this type of ending (we've seen one such in How It Ends).
Largely, I don't want to blame the actors in this, as Caplan has done a decent job. Most of the time, when we don't have a good plot or idea to play, we end up bashing the whole film, but here – unlike many other Netflix films – we can still say that it has its moments.
The problem is that we have already seen more in terms of conflicts between man and machines, alien invasions and artificial intelligence, so anything that is not inimitable scores little. Extinction lacks in visualisation with the overall settings, costumes, a believable timeline and better characterization to connect everyone to the storyline.
Away from this film, I don't really understand why Netflix is adding more and more films which don't have any audience. Lately, the streaming service provider has added quite of few films that are first produced by studios and then pushed to Netflix. They should invest more on producing Netflix Original series in which there are really good at.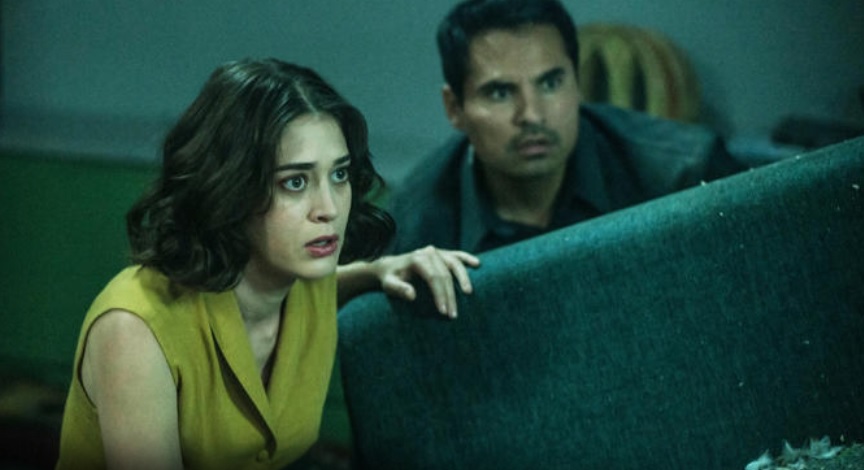 Starring: Michael Peña, Lizzy Caplan, Israel Broussard
Genres: Action & Adventure, Action Thrillers, Dramas, Sci-Fi Thrillers, Sci-Fi & Fantasy, Action Sci-Fi & Fantasy
Director: Ben Young
Extinction is streaming now on Netflix.
Disclaimer: The images and/or videos used are not owned by Cinecelluloid. No copyright infringement intended.