A bodyguard's job is to keep his client out of harm's way. But what happens when a bodyguard is hired to guard one of his enemy – who happens to be one of the most notorious hitmen. Yes, this is the premise of the upcoming action-comedy "The Hitman's Bodyguard" starring Ryan Reynolds and Samuel L. Jackson.
The trailer of the film looks funny with both the actors in their wittiest mode. Both the characters in the movies very much dislike each other but they will have to join forces to defeat a dictator (played by Gary Oldman). The trailer of the film is impressive with glimpses of some intense action-packed scenes as well as some very nice punchlines.
In one scene, Ryan Reynolds' character refer to Samuel L. Jackson's character for screaming obscenities by saying, "This guy single-handedly ruined the word 'Motherfucker". This is actually a reference to Jackson's many other movies where he uttered the very word, probably the most number of times than any other actor.
In another scene, while sitting in a car, the hitman threatens, "I will bust a cap in your ass." The protection agent queries, "Have you ever said, 'Please?'" to which the hitman's (obvious) response is, "Please, motherfucker!"


The trailer shows loads of action sequences, including high-speed car chases and many punches thrown. The film also stars Salma Hayek, Elodie Yung, Joaquim De Almeida, Kirsty Mitchell and Richard E. Grant.
"The Hitman's Bodyguard" will be "hitting" your nearest theatres on August 18th.

Official Synopsis:
The world's top protection agent [Ryan Reynolds] is called upon to guard the life of his mortal enemy, one of the world's most notorious hitmen [Samuel L. Jackson]. The relentless bodyguard and manipulative assassin have been on the opposite end of the bullet for years and are thrown together for a wildly outrageous 24 hours. During their raucous and hilarious adventure from England to the Hague, they encounter high-speed car chases, outlandish boat escapades and a merciless Eastern European dictator [Gary Oldman] who is out for blood.

Starring: Ryan Reynolds, Samuel L. Jackson, Gary Oldman, and Salma Hayek, Elodie Yung, Joaquim De Almeida, Kirsty Mitchell, with Richard E. Grant
Director: Patrick Hughes
Writer: Tom O'Connor
Studio: Lionsgate, Millennium Films
Release Date: August 18th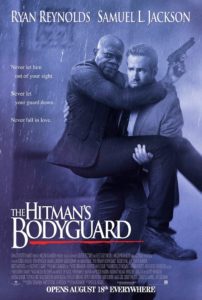 The Hitman's Bodyguard – Movie Poster
Disclaimer: The images and/or videos used are not owned by Cinecelluloid. No copyright infringement intended.