On the question-and-answer website Quora, you will find many questions related to the 2006-released and James McTeigue-directed film V for Vendetta. The movie has been very successful that shows an alternate dystopian future where a mysterious anarchist or freedom activist, wearing a Guy Fawkes costume, and known by the alias "V", attempts to work against the oppressive fascist government in the United Kingdom.
The movie which is based on Alan Moore and David Lloyd's comic series V for Vendetta (first published in 1982) is one of the finest written movies (at least I believe), although the novelist Moore has distanced himself from the film owing to inaccuracies in the portrayal of the conflict between fascism and anarchism further adding that the film version is somehow shaped as a story about "current American neo-conservatism vs. current American liberalism".
Nevertheless, the film and the ideas behind are all the more appealing in today's time. Every dialogue in the movie is so well written that you simply can't overlook the essence and political message behind it. From the very beginning, the character 'V' or the masked man, played by Hugo Weaving, keeps on doing something or other on-screen that keeps you guessing till the end.
V for Vendetta has been both praised and criticized by different socio-political groups on issues of totalitarianism, terrorism, homosexuality, criticism of religion, etc.
Set against the futuristic landscape of totalitarian Britain, V For Vendetta tells the story of a mild-mannered young woman named Evey who is rescued from a life-and-death situation by a masked man known only as "V." Incomparably charismatic and ferociously skilled in the art of combat and deception, V ignites a revolution when he urges his fellow citizens to rise up against tyranny and oppression. As Evey uncovers the truth about V's mysterious background, she also discovers the truth about herself – and emerges as his unlikely ally in the culmination of his plan to bring freedom and justice back to a society fraught with cruelty and corruption. [Synopsis – Warner Bros.]
'V For Vendetta' (Movie Trailer)
V for Vendetta – Popular Quotes / Dialogues
"Remember, remember
The fifth of November
The gunpowder treason and plot.
I know of no reason
Why the gunpowder treason
Should ever be forgotten."

― V For Vendetta
But what of the man? I know his name was Guy Fawkes, and I know that, in 1605, he attempted to blow up the houses of Parliament. But who was he really? What was he like? We are told to remember the idea, not the man because a man can fail. He can be caught. He can be killed and forgotten. But four hundred years later an idea can still change the world. I've witnessed firsthand the power of ideas. I've seen people kill in the name of them, and die defending them. But you cannot kiss an idea, cannot touch it or hold it. Ideas do not bleed. They do not feel pain. They do not love it. And it is not an idea that I miss, it is a man. A man that made me remember the fifth of November. A man that I will never forget.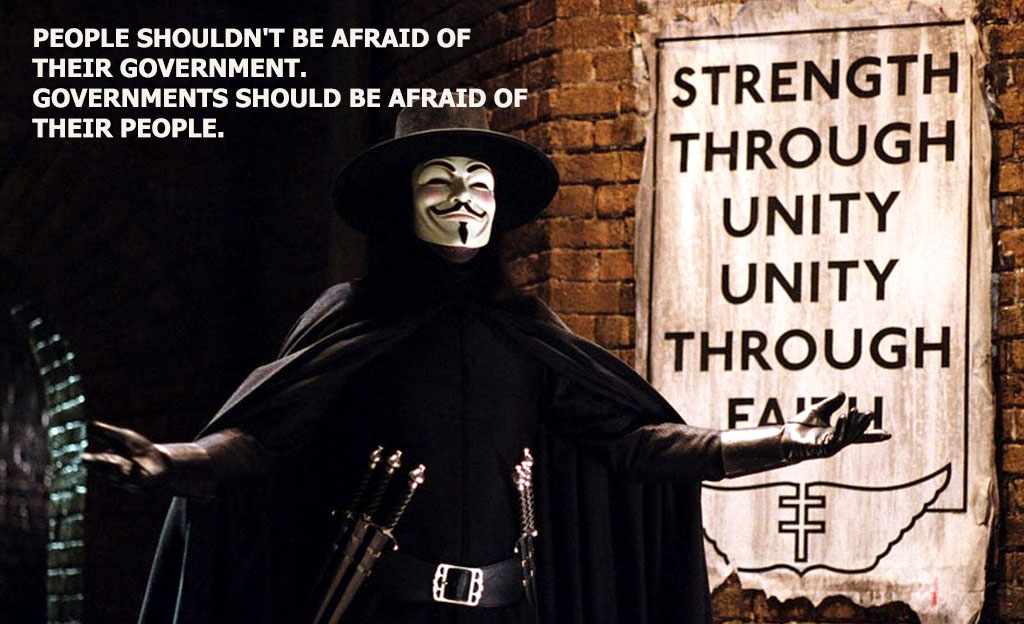 "People shouldn't be afraid of their government. Governments should be afraid of their people."

― Alan Moore, V for Vendetta
"Artists use lies, to tell the truth. Yes, I created a lie. But because you believed it, you found something true about yourself."

― Alan Moore, V for Vendetta
"Knowledge, like air, is vital to life. Like air, no one should be denied it."

― Alan Moore, V for Vendetta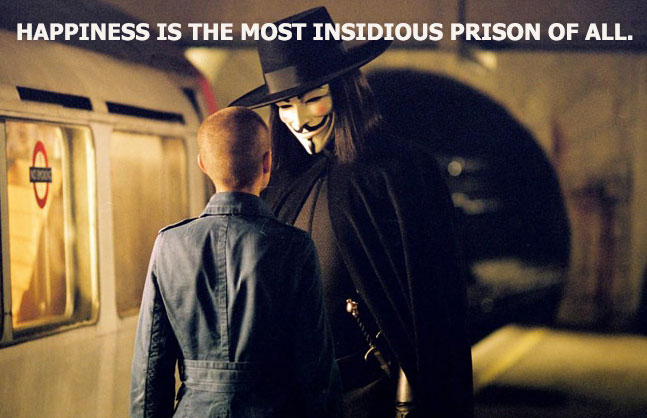 "Happiness is the most insidious prison of all."

― Alan Moore, V for Vendetta
Where to watch V for Vendetta (2006)
Disclaimer: The images and/or videos used are not owned by Cinecelluloid. No copyright infringement intended.