Studio Ponoc's animated anthology "Modest Heroes" narrates three wonderful stories of regular life heroes: two underwater siblings fighting many threats on their own; a little boy living with a fatal egg allergy; and an invisible man living a solitary life.  
After the great success of their debut animated film "Mary and the Witch's Flower," Ponoc's second creation is an anthology "Modest Heroes" (Volume 1) with three short stories. Three prolific directors came together and created an amazing experience with a wonderful piece of animated visual storytelling.
Theatrically released earlier in August 2018, "Modest Heroes" finally arrives on Netflix. Keeping alive the legacy of Studio Ghibli films, three different directors sketch emotive tales of three modest heroes with stunning artistry, and beautiful characters that depict the idea of heroism in our everyday lives.
"Kanini & Kanino" directed by Hiromasa Yonebayashi
Kanini and Kanino are tiny human siblings with the ability to live underwater and over the surface. They live with their father under a stream while their pregnant mother has gone away to give birth. Once when a heavy current carries their father far downstream, they embark on an adventurous journey. They must keep themselves safe from several freshwater predators and reunite with their family.
The story shows the tiny beings living in a natural world that is merciless to many. However, it is the effort of tiny and regular people who can stand up to adversity to help themselves and the people around them.
The underwater world imagery, magical creatures, dream-like visions, and the overall visualization of nature takes us back to Ghibli's "The Secret World of Arrietty", as both films share the same director.
Yonebayashi is considered one of the finest Japanese animators and directors who started his career in Studio Ghibli and is known for films like When Marnie Was There and Mary and The Witch's Flower. He was nominated for the Academy Award for Best Animated Feature in 2015 for his second film When Marnie Was There.
"Life Ain't Gonna Lose" directed by Yoshiyuki Momose
The next story is "Life Ain't Gonna Lose" where we meet little Shun with a fatal food allergy. He has this allergy to eggs that forces him to avoid any food made with eggs. Shun lives with his mom and we see a great bond between the mother and son. The film is a story of emotion, struggle, overcoming fear, and learning to live happily with our pains.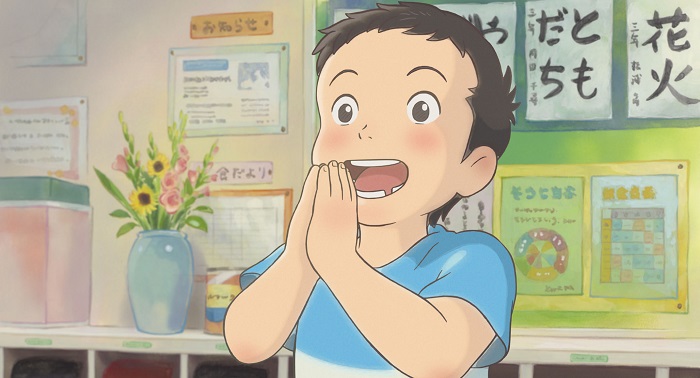 "Life Ain't Gonna Lose" is very much in contrast to the first film in the anthology. While "Kanini & Kanino" was visually more colorful, this one is softer and into traditional 2D animation kind. Nevertheless, the fluidity was visible on screen as we see Shun struggling with pain from that allergy and in the next moment, coming back to feat to enjoy his normal life.  
"Invisible" directed by Akihiko Yamashita
The third and final short in the anthology follows an invisible man who lives a life of nobody, as no one pays any heed to his presence. He is clothed properly but as his body is not visible, he goes almost unseen in a society that least cares about others' turmoil. Even though he doesn't have a face, we can sense his inner struggle and feelings.
Directed by Akihiko Yamashita, this is probably the most philosophical one of the three. Also, the story ends on a positive note and we see the invisible man finding his purpose in life and becoming the everyday hero, we often overlook.
With "Modest Heroes", Studio Ponoc in the true sense is taking forward the legacy of Studio Ghibli, and the likes of Hayao Miyazaki and Isao Takahata. In just under an hour in total, we get to watch a wonderful piece of visuals and imaginative storytelling that has always been the USP of Japanese animators and filmmakers.
Anime Anthology Modest Heroes is now streaming on Netflix. A must-watch indeed!
Genres: Anime Feature Films, Japanese Films, Children & Family Films
Directed by Hiromasa Yonebayashi, Yoshiyuki Momose, and Akihiko Yamashita
Produced by Yoshiaki Nishimura
Music by Takatsugu Muramatsu, Masanori Shimada and Yasutaka Nakata
Production: Studio Ponoc
Release Date: August 24, 2018 (Japan)
Streaming Service: Netflix
Where to watch Modest Heroes (2018)
Disclaimer: The images and/or videos used are not owned by Cinecelluloid. No copyright infringement intended.