Director Kei Ishikawa's upcoming Japanese mystery drama "A Man" (Aru Otoko, ある男) is an adaptation of the novel "Aru Otoko" by Keiichiro Hirano. Starring Satoshi TSUMABUKI (Traces of Sin) and Sakura ANDO (Shoplifters), the film is expected to be released later this year.
"A Man" – Movie Synopsis
Akira who works as a lawyer receives a request from Rie, one of her former clients. Rie wants to do a background check on her deceased husband, Daisuke. Previously, after getting a divorce, Rie had moved back to her hometown where he raised her child alone before eventually meeting Daisuke and marrying him.
They had started a happy family of four with the addition of a new child, when one day, Daisuke died in a tragic accident. Stricken with grief, the family holds a memorial service, where Daisuke's estranged brother Kyoichi appears. To everyone's surprise, when he sees the photo of his dead brother, he remarked that the man in the photo was not his brother.
So, was Rie's beloved "Daisuke" actually someone else? Then who the "man" was and why he was impersonating another person?
Akira in his private investigation encounters an array of people in his pursuit to identify the man who had lived his life as a different person. He starts to close in on a shocking truth to reveal the identity of the mystery man, but the truth becomes more and more worrisome.
Watch the teaser for "A Man" / "Aru Otoko"
Original Title: Aru Otoko, ある男
Genre: Drama / Mystery
Director: Kei Ishikawa
Screenwriter: Kosuke Mukai
Cast: Tsumabuki Satoshi, Ando Sakura, Kubota Masataka, Seino Nana, Mashima Hidekazu, Koyabu Kazutoyo
Based on: "A Man" (ある男) by Hirano Keiichiro
Would you like to share more information on the upcoming Japanese film A Man / Aru Otoko? Please write to us in the comment section below.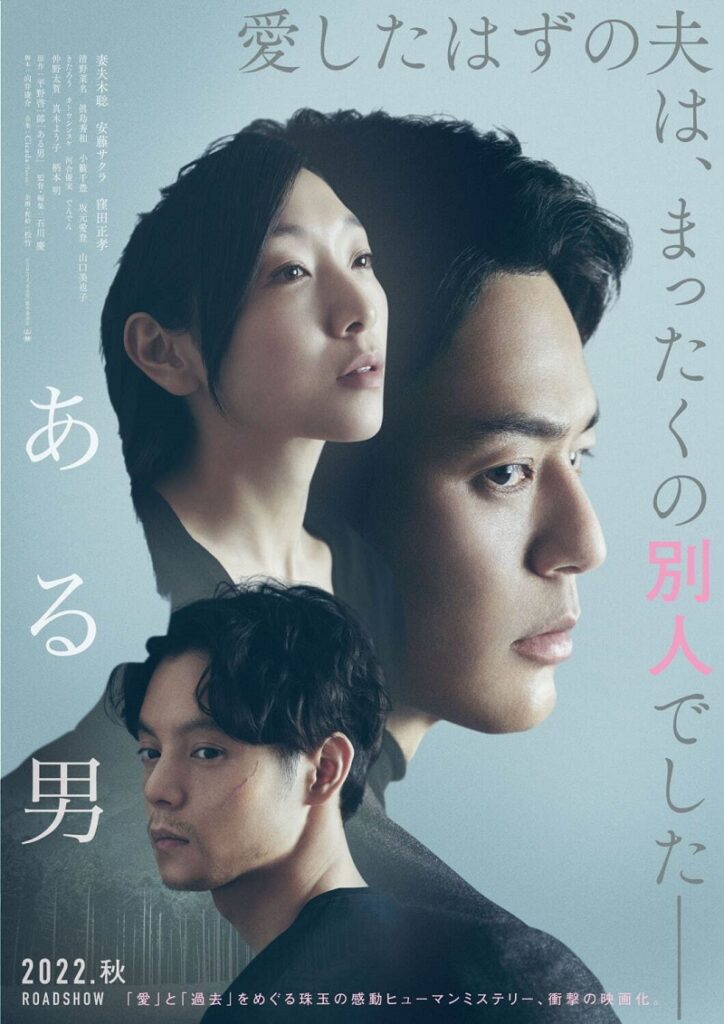 Photo credit: shochikufilms.com
Disclaimer: The images and/or videos used are not owned by Cinecelluloid. No copyright infringement intended.