CHEMICAL HEARTS is a new romantic movie, now streaming on Amazon Prime Video. Based on the novel Our Chemical Hearts by Krystal Sutherland, the film is a coming-of-age high school teenage melodrama that has a beautiful story with interesting characters, emotions, and a universal appeal. Directed by Richard Tanne, the film stars Lili Reinhart (Riverdale, Hustlers) and Austin Abrams (The Walking Dead, Euphoria).
Synopsis – 'Chemical Hearts'
The romantic drama 'Chemical Hearts' starts with high school teen Henry (Abrams) who has never fallen in love and considers himself a hopeless romantic. With a deep interest in writing, he aspires to be the editor of his school magazine and this is where things seem to take a turn when he meets the girl Grace (Reinhart), a transfer student, who joins the team to co-edit the school paper.
Henry gets attracted to the mysterious and obscure nature of Grace and eventually comes to learn about her troubled past involving an accident in which she lost her boyfriend, and how it affects her life even today. Her past even makes Henry fall in love with Grace, and they come closer to each other, as expected. While she tries her best to come out of her past, the loving memories she shared with her boyfriend, the confusion and craziness make her connection with Henry even more complicated.
'Chemical Hearts' is now streaming on Amazon Prime
Screenplay, Direction & Characterization
In 'Chemical Hearts' the characters are well-rounded with emotions as we picture the obvious dilemma not just in teens, but life in general when many times, it becomes difficult to let go of things that easily. After one heartbreak or trauma, the next step is always complex in figuring out the moment when you are ready to accept what life throws at you.
Richard Tanne's screenplay and direction make the whole narration smooth in developing each character that captures the essence of the story. The scene where Henry fixes broken pottery symbolizes his effort in comforting a broken heart, but his effort is not enough when Grace is still struggling to deal with her grief.
Other than the two central characters, there is no focus on any other. From Henry's parents to friends, there is not much contribution. Of course, there is Henry's sister, who is a neurosurgeon and she is only there to explain the science behind such human feelings, the chemical reactions when we fall in love.
Performance by Reinhart and Abrams
There are a few good performances by its lead cast. The mysterious or unpredictable nature of the character played by Lili Reinhart adds dimension to the story. We can easily get drawn to her grief and sense of loss.
Then we have a kid Henry who rather has a privileged life with loving parents but with a sense of a missing strand in his relationships. So, when he is left confused and hurt with no clue to amend what life throws at him, there is chaos. It is Austin Abrams' character Henry from whose eyes we watch the whole story. His performance in such a melancholic tone is intriguing.
Even though there is not enough background established for both the characters, the performance, and the narration (albeit on a bit slower side) together make 'Chemical Hearts' watchable. So, there is love, romance; there is heartbreak, and there is the idea of self-discovering that goes well with any teenage life full of confusion and chaos.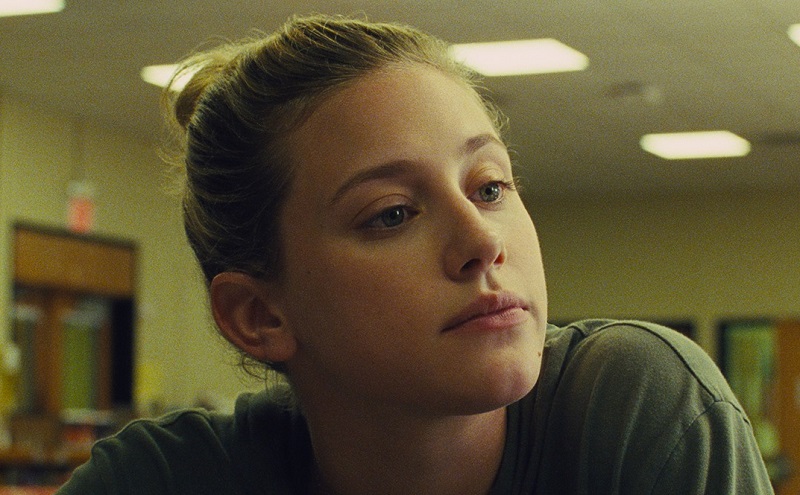 If you've already watched 'Chemical Hearts', let us know your review in the comment section below.
FILM CREDITS:
CAST: Lili Reinhart as Grace Town, Austin Abrams as Henry Page, Sarah Jones as Suds, Bruce Altman as Toby
SCREENPLAY & DIRECTION: Richard Tanne
BASED ON 'Our Chemical Hearts' by Krystal Sutherland
CINEMATOGRAPHY: Albert Salas
RELEASE DATE: August 21, 2020 (United States)
Disclaimer: The images and/or videos used are not owned by Cinecelluloid. No copyright infringement intended.