Well, I am quite late to share the trailer of one of this year's upcoming gore-filled horror rides READY OR NOT, but it is worth a watch before the film's theatrical release on August 21.
The film follows a young bride (Samara Weaving) who joins her husband's (Mark O'Brien) filthy-rich family at his opulent mansion. She soon gets introduced to a weird family tradition of playing hide-and-seek that turns out to be the most lethal game of survival.
What we see in the trailer is that in the game, we see all the family members up with arms to hunt the bride. Weird it sounds, but this is where the harrowing journey of a newlywed bride starts, who now has no other option but to defend herself. She must find a way out and deal with the devilish motives of her in-laws.
There are few good horror movies we have seen this year, and probably director Matt Bettinelli-Olpin and Tyler Gillett's READY OR NOT is expected to be the much-awaited horror-comedy. The nightmarish journey promises to spill much blood and thrill, as the deadly game turns for everyone's fighting for survival, not just the bride.
DIRECTOR: Matt Bettinelli-Olpin, Tyler Gillett
WRITER: Guy Busick, Ryan Murphy
CAST: Samara Weaving, Adam Brody, Mark O'Brien, Henry Czerny, Andie MacDowell
STUDIO: Fox Searchlight Pictures
RELEASE DATE/YEAR: July 27, 2019 (Fantasia); August 21, 2019 (United States)
Earlier this month, the movie trailer of the upcoming Blumhouse thriller "The Hunt" also shows a story involving humans hunting human beings for sport. The movie is scheduled for a September 27, 2019 release.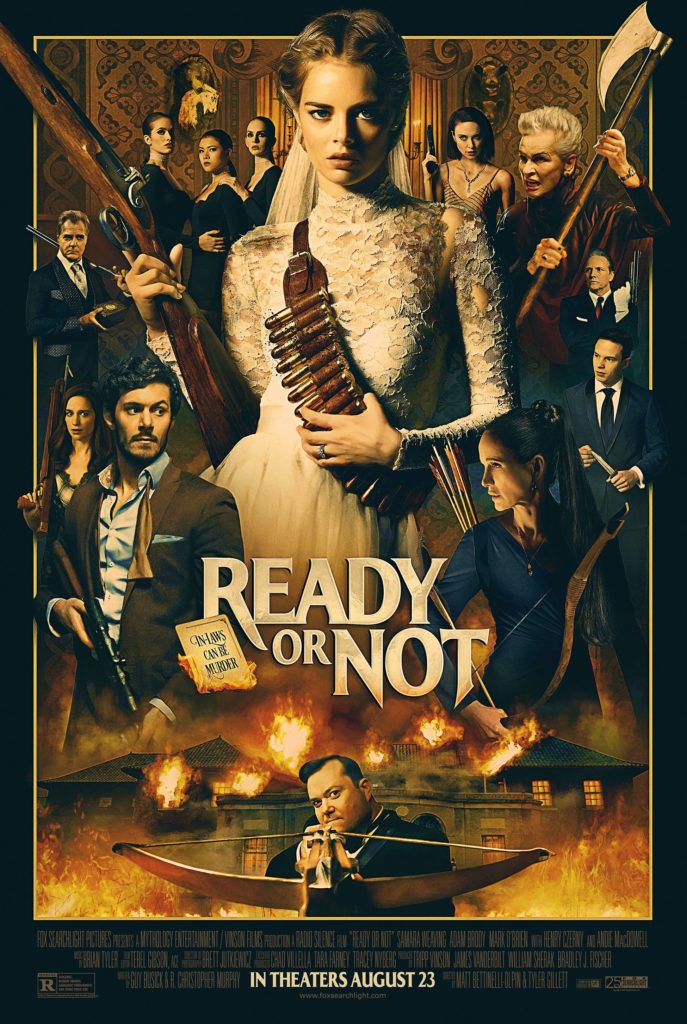 Where to watch Ready or Not (2019)
Disclaimer: The images and/or videos used are not owned by Cinecelluloid. No copyright infringement intended.