This French prison melodrama 'A Prophet' (Un Prophete) is one of the best I have seen in the last few years. I have had watched the popular TV series Prison Break, but 'A Prophet' by the director Jacques Audiard is all the more engaging and thrilling in its own way.
Released in 2009, the film was even nominated to the 82nd Academy Awards in the Best Foreign Film category.
Audiard's ability to deliver one of the finest films can very well be gauged from the movies he directed earlier with the likes of "A Self-Made Hero" (1996) and "The Beat That My Heart Skipped" (2005). The plot which is, of course, on crime and criminals, was portrayed well on screen that shows the transformation of a small-time criminal into a big-time crime boss.
Malik (played by Tahar Rahim) is a French native of Arab descent who enters the prison to serve a six-year jail term. Well, his crime and life that brings him to prison are unknown but his facial expression never suggests that he is a criminal at all. Nevertheless, whether you are a criminal or not, a prison always teaches you how to be one.
As he tries to cope with the new but volatile atmosphere of a prison that has been polluted by criminals, crimes, and drugs, he has to learn to go with the usual tricks, the life of a tough man and do everything for his survival.
Read about yet another prison drama "Convict".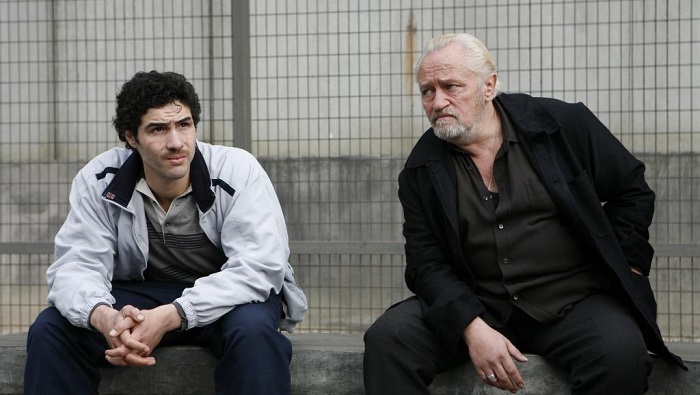 In the film 'A Prophet' (Un Prophete), the French prison is divided into two violent factions: the Corsicans and the Muslims. Malik, despite being a Muslim falls under the Corsican gangster Cesar Luciani (Niels Arestrup), who controls the prison with his outside contact and of course money. Luciani offers Malik to kill an Arab inmate named Reyeb or die himself.
The killing scene of Reyeb by Malik with a razor blade that he has hidden inside the mouth is probably the most disturbing scene, which the director captured well. In fact, the torturesome moments of Reyeb and Malik's shivering body after killing Reyeb is ghastly imagined.
With this murder, Malik not only gained protection from Luciani but also respect from fellow prisoners. He, however, has his own motives which later put him deep into the criminal world although as the key player who finally rises above Corsican mobster with growing criminal ties, both inside and outside the prison. 
Watch the Movie Trailer – 'A Prophet'
Where to watch A Prophet / Un prophète (2009)
Disclaimer: The images and/or videos used are not owned by Cinecelluloid. No copyright infringement intended.