Jake Gyllenhaal and writer/director Dan Gilroy's supernatural thriller 'Velvet Buzzsaw' is an unlikely film on art that has an equal amount of humor and horror. The film is about greed in the business of the art world and how many of us don't realize the value of artistic expression but the money it can generate.
Well, not sure whether it fits any particular genre – Velvet Buzzsaw has definitely some weird ideas in play. The film has more than a few things to deal with, including some moral issues related to the art world, acceptance of sexual identity, and of course, the realization of appreciating the value of the artist and his vision.
With this art world thriller "Velvet Buzzsaw", director Dan Gilroy collaborates again with both Jake Gyllenhaal and Rene Russo after their last creation "Nightcrawler".
Click To Tweet
We are introduced to Morf (Jake), a bisexual, respected art critic who is known in the circle as a feared critic with his honest opinion. Josephina (Zawe Ashton), an assistant in the Haze Gallery owned by Rhodora Haze (Rene Russo), wants to be successful in the art scene, where business and individual insatiability is doing injustice to the artistic world.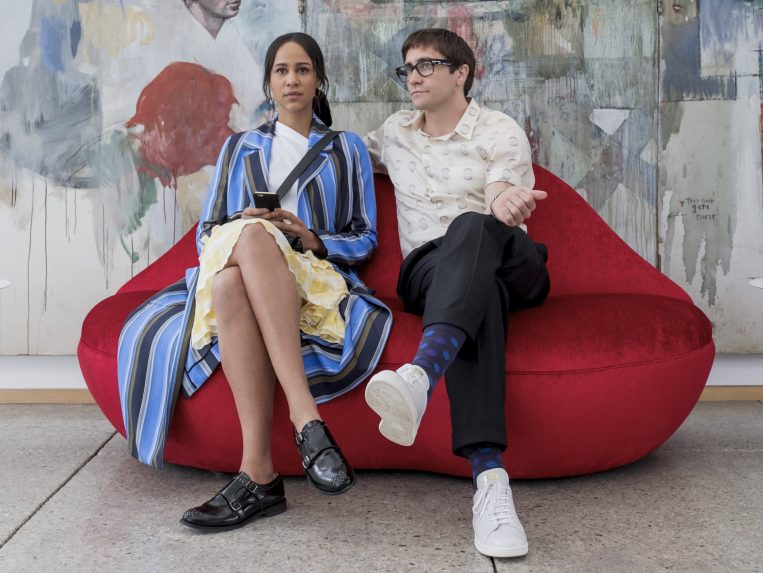 Amid the rush in the business of art, it seems everyone in the film is simply trying to move up in ladder caring least about the art but more about the business or the commercialization of art. From art to artists and critics to collectors, everything looks elitist in the contemporary art scene of Los Angeles.
So, when they got hold of a treasure of artworks from a deceased artist named Ventril Dease, they all saw opportunities in exploring and exploiting the original creator's imagination. This is where things take a turn with supernatural elements, as they all go against the wishes of the original artist's wishes for all to be destroyed.
The stolen art later becomes the cause of others' destruction. And only those survive at the end who are creating art for the sake of art and genuinely appreciate art. Velvet Buzzsaw is great in the way it uses dark comedy to convey the message.
Director Dan Gilroy, who also wrote the script, interestingly uses the odd premise and characters that have a specific tone in a not-so-normal world. The characters are also complex and multi-dimensional, and all the key actors have gone with the director's imagination which is indeed intelligent and engaging.
Catch the trailer here or stream 'Velvet Buzzsaw' on Netflix
Movie Name: 'Velvet Buzzsaw'
Written & Directed by Dan Gilroy
Starring: Jake Gyllenhaal, Rene Russo, Toni Collette, Zawe Ashton, Tom Sturridge, Natalia Dyer, Daveed Diggs, Billy Magnussen, and John Malkovich.
Release Year/Date: February 1, 2019
Streaming Service: Netflix
More to Read: Here is another movie starring Jake Gyllenhaal — Life (2017).
Where to watch Velvet Buzzsaw (2019)
Disclaimer: The images and/or videos used are not owned by Cinecelluloid. No copyright infringement intended.