Let's catch up with the storyline of the popular USA Network TV series The Sinner. Starring Jessica Biel and Bill Pullman in the lead, the 2017-released series has been a successful one. The second season of The Sinner will begin soon with a new story in which Bill Pullman will reprise his role as detective Harry Ambrose. 
Plot:

In "The Sinner" (season 1), set in a small New York town, a haunted detective seeks explanations for baffling crimes, while battling his own demons.
The Sinner – Part I:
The first episode of the crime thriller The Sinner starts with the introduction of Cora's family who seems to be a very normal family with lots of love and care. She is married to Mason and they both have a son Laine. However, normal was the family – there was a little sense of strain as Mason is more attached to his mother, who also takes care of the toddler when both the couple goes to work.
On a pleasant afternoon when many families were having a great time on a beach, Cora all of a sudden moved near to a man (named Frankie Belmont) and stabbed him to death, leaving many including her family and cops baffled who were clueless in finding a reason, while Cora pleads guilty.
The Sinner – Part II:
Detective follows the case by meeting other fellows and tries to Cora goes to the courtroom and pleads guilty there after the detective meets her and says that he knows that she knew Frankie Belmont. Cora denied knowing her victim. The detective then asks her why she is pleading guilty when she could have at least tried to help herself by pleading temporary insanity which might reduce her sentence.
Detective Ambrose tries to find an explanation by meeting the victim's girlfriend who saw her partner dying. Here he gets to know that there was a girl about whom Frankie once mentioned to his girlfriend but no further details she had. This at least indicates that there was some connection between Cora and Frankie.
Later, Cora admitted to the investigator that she knew Frankie back in 2012 but with the name J.D. She spent a night with Frankie which made her pregnant but Cora did not have Frankie's number to reach out to her. Being a catholic, she would not even consider abortion and she then thought of dying.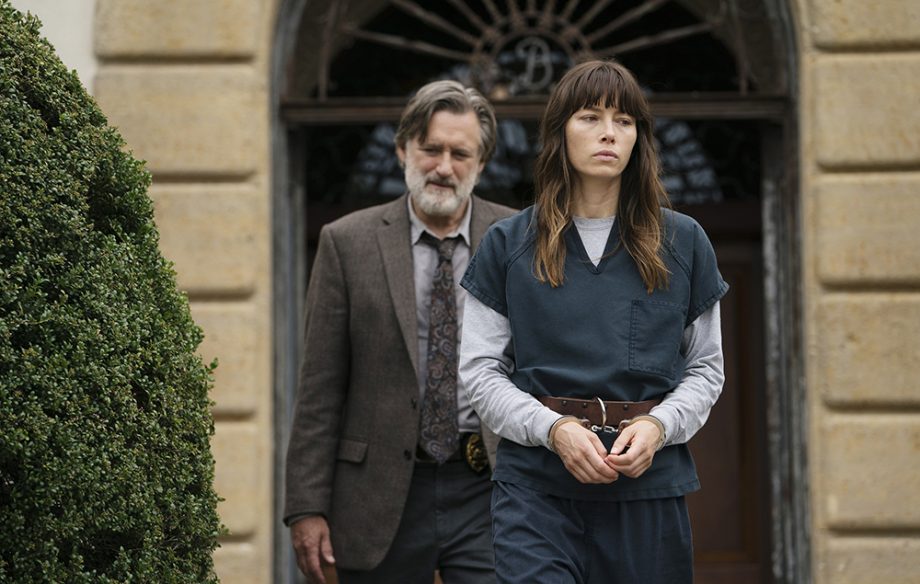 The Sinner – Part III:
Detective Ambrose finds out the troubled childhood of Cora and she later became a heroine addict after leaving her home. The murder case no more seems to be a clear case of sudden rage or a brief mental imbalance, rather suggests something else.    
Meanwhile, while Cora's parents consider herself dead the moment she left home at the age of 23, cops get to know that she gets a visitor and that's her aunt. Ambrose followed up with Cora's aunt Margaret who reveals more.
 
Then Cora's husband Mason on the other hand takes matters into his own hands. He visits Cora and tries to ask her about her drug habit but she doesn't reveal anything. Cora now decides to plead 'not guilty,' and asks the lawyer about the options she has, but her lawyer only suggests that there is no chance to change the stance as the cops have an airtight case against her. And in case of trial, the chances of winning a temporary insanity plea are very rare.
The Sinner – Part IV:
Ambrose understands that Cora does not go all by herself to become a heroin addict. She needed someone's help or at least somebody pushed her into this. In the previous episode, he visits Cora in the jail with a needle, a heroine packet, a spoon, and a band – and asked her to inject her which she could not.
In this episode, Ambrose helps her while Cora struggles to recover missing memories, which directs Ambrose to a new suspect. Now, they have started believing the fact that somebody, somewhere did something to her.
Meanwhile, Mason is in police custody after confronting J.D. in a bar. He thinks that this guy is responsible for his wife's present state of mind. The detective now questions J.D. but in the middle of the interrogation J.D.'s lawyer comes in and bails him out. But the odd thing is that J.D. here has a high-powered lawyer for his rescue.
Cora now has to remember everything she forgets after meeting J.D. and waking up two months later on the street. Anyways, in the last few episodes, we see Cora's life in flashbacks and also watch Ambrose's personal life which is also somehow complicated and it does help in establishing both the characters. Cora now goes under memory recovery therapy as suggested by Ambrose.
By the end of episode IV, there are a lot of things happening: Mason follows JD trying to prove that he is actually a drug dealer; detective Ambrose and his colleague are reaching out to the clues Cora revealed during the therapy session; and the second session which even reveals more.
Up till the fourth episode, The Sinner has been really engaging; not much suspense is revealed. Cora is still struggling to remember her past that drove her to commit the crime. Detective Ambrose knows that he is on the right path to get to the bottom of the crime, but he still has a long way to go. At least, it is now established that there is someone else involved with Cora who has some motives behind the whole incident of murder.

The Sinner is now streaming on Netflix. 
Click here to read more about the 'The Sinner' Season 1 – Episode Details (Part V – VIII).
Starring: Jessica Biel, Bill Pullman, Christopher Abbott, Abby Miller, Dohn Norwood
Genres: TV Series, Crime TV Series, Mystery Programmes, Suspense Thriller
Creator: Derek Simonds
Where to watch The Sinner (2017)
Disclaimer: The images and/or videos used are not owned by Cinecelluloid. No copyright infringement intended.