'The Fourth Kind,' which was released in 2009, explores one of the most discussed but unsolved phenomena—the existence of aliens—as well as alien invasions into our world.
This horror/sci-fi movie claims to be based on actual incidents occurring in Nome, Alaska in 2000 and attempts to link locals going missing there to alien abductions.
The film, which was directed by Olatunde Osunsanmi, begins with actress Milla Jovovich presenting herself as an actress and describing her role as psychiatrist Dr. Abagail "Abbey" Tyler and how some of the story will be combined with genuine real videotaped occurrences.
As the plot unfolds, a psychologist (Jovovich) treating traumatized patients in an Alaskan town finds many related symptoms, or say experiences, from different patients. After hypnotizing some of her patients, she finally concludes that there are some types of strange forces that exist which are the causes of human disappearance or abduction by aliens (i.e. the close encounters of the fourth kind).
Without getting too further into the plot and the purported real-life events, it is to remark that the film is misleading on many accepts when you are addressing an issue and a region with no actual explanation. Without even attempting to display that dubious old video footage, the movie may have been far better with just a basic description of the events.
Watch 'The Fourth Kind' – Movie Trailer
The onscreen dramatization of past events or those unexplained phenomena alongside the videotapes, using the split-screen technology, just to press on the authenticity did not go down well in creating an engaging work. In reality, the idea of using found footage or mockumentary filmmaking as a whole falls flat.
Making a low-budget horror movie about such an enigmatic phenomenon is a good idea, but trying to pass off fiction as fact is in no way appropriate. Even if the opening monologue promises suspense and some disturbing elements, you hardly find anything that will amuse you in this psychological thriller. There is no debate on what truth and fiction in this film are, rather what you see in 'The Fourth Kind' is not creatively impressive or entertaining.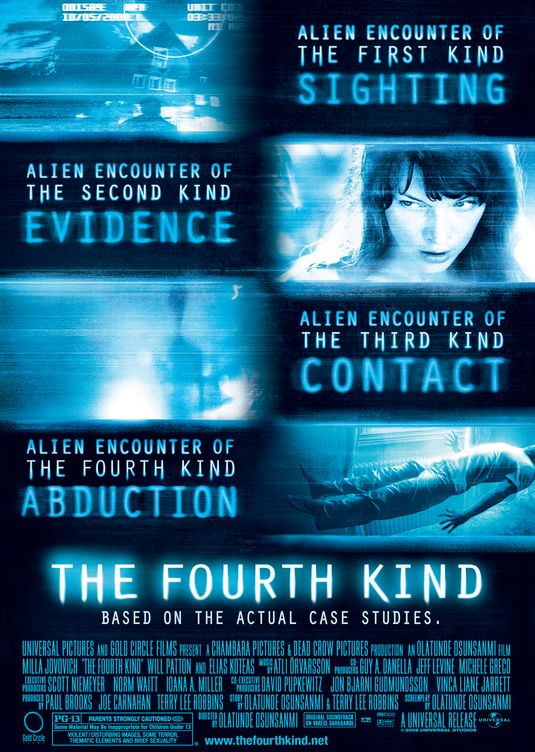 Where to watch The Fourth Kind (2009)
Disclaimer: The images and/or videos used are not owned by Cinecelluloid. No copyright infringement intended.