Several filmmakers have come together in making a collection of short films with personal and moving stories that capture our shared experience of life in quarantine. Netflix is bringing this collection of short stories Homemade, set to start streaming on June 30.
Filmmakers are always on the field, finding new ways to express their creativity and channel their passion. However, during this COVID-19 era of lockdown, like many of us, they were also under quarantine or confined to their homes, but the power of creativity is unique that has always motivated the artists.
Homemade includes films created by acclaimed directors such as Ladj Ly, Pablo Larraín, Rungano Nyoni, Gurinder Chadha, Kristen Stewart, Naomi Kawase, Rachel Morrison, and Sebastián Lelio.
Here is the trailer for 'Homemade' that makes us believe why it's worth checking out this diverse, genre-spanning collection of films.
As mentioned by Netflix in a press statement, this is a celebration of the craftsmanship of filmmaking and the enduring power of creativity in the face of a global pandemic.
The films have been produced by The Apartment Pictures, a Fremantle company, and Fabula. These films are shot using only equipment found at home, the stories range from intimate diaries of the filmmakers' day-to-day life to short tales of fiction across multiple genres, offering a magnifying glass over how the lockdown impacted different countries and lives around the world.
Lorenzo Mieli, CEO of The Apartment, Fabula's Juan de Dios Larraín, and Pablo Larraín have rallied filmmakers worldwide to join the project.
Let us check the complete list of filmmakers who are part of this fantastic project Homemade.
Ladj Ly (Les Misérables) – short filmed in Clichy Montfermeil (France)
Paolo Sorrentino (The Great Beauty, The New Pope) – short filmed in Rome (Italy)
Rachel Morrison (Black Panther, Mudbound) – short filmed in Los Angeles (USA)
Pablo Larraín (El Club, Jackie) – short filmed in Santiago (Chile)
Rungano Nyoni (Kuuntele: I am not a witch) – short filmed in Lisbon (Portugal)
Natalia Beristáin (She does not want to sleep alone) – short filmed in Mexico City (Mexico)
Sebastian Schipper (Victoria, Roads) – short filmed in Berlin (Germany)
Naomi Kawase (True Mothers, Sweet Bean) – short filmed in Nara (Japan)
David Mackenzie (Hell or High Water, Outlaw King) – short filmed in Glasgow (Scotland)
Maggie Gyllenhaal (The Kindergarten Teacher / The Honourable Woman) – short filmed in Vermont (USA)
Nadine Labaki & Khaled Mouzanar (Caramel, Capernaum) – short filmed in Beirut (Lebanon)
Antonio Campos (The Devil All The Time) – short filmed in Springs, New York City (USA)
Johnny Ma (Old Stone; To live to sing) – short filmed in San Sebastián del Oeste, Jalisco (Mexico)
Kristen Stewart (Clouds of Sils Maria / Come Swim) short filmed in Los Angeles (USA)
Gurinder Chadha (Bend It Like Beckham; Blinded by the light) – short filmed in London (UK)
Sebastián Lelio (Gloria Bell, A Fantastic Woman) – short filmed in Santiago (Chile)
Ana Lily Amirpour (A Girl Walks Home Alone at Night; The Bad Batch) – short filmed in Los Angeles (USA)
"This project is a beautiful way to send a strong message of unity and resilience throughout the international creative community. I want to thank Netflix as well as all our directors for taking this challenge and proving that, even in such a complicated time, we can all try to move forward on exciting and unbeaten paths."

– Lorenzo Mieli, CEO of The Apartment
"Seeing the stories of others can open hearts and minds and make us all feel more connected. This is why, in these unprecedented times, we are humbled to work with this incredible ensemble of diverse filmmakers and to bring their personal stories to our members around the world."

– Teresa Moneo, Director Original Films at Netflix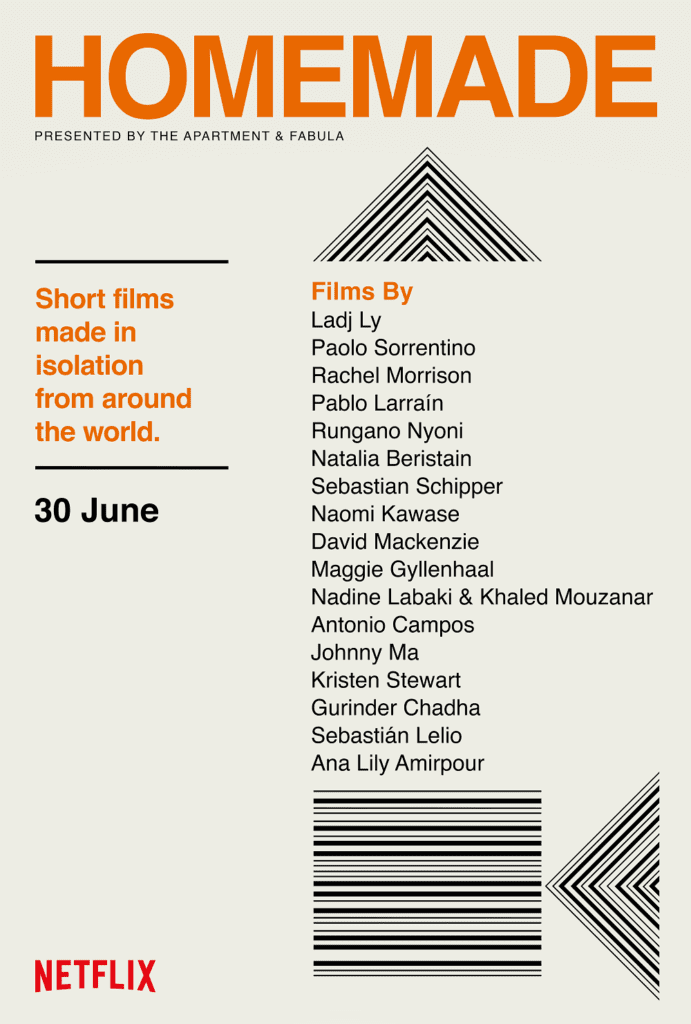 Note: This post is based on one of the recent Netflix press releases, dated June 23, 2020. (Content & Image Credit: Netflix)
Where to watch Homemade
Disclaimer: The images and/or videos used are not owned by Cinecelluloid. No copyright infringement intended.