The scary urban legend "Candyman" is back with this Jordan Peele–produced reimagination of the cult classic. The movie trailer is here for you to watch ahead of its October 16, 2020 release.
So, this summer, get ready to be scared of the Candyman, known to kill those who say his name five times by standing in front of a mirror. The origin of this fictional character goes back to Clive Barker's 1985 short story, "The Forbidden".
From the trailer, we can see that Jordan Peele brings a fresh take on the blood-chilling urban legend that we have heard/read many times and watched in the 90s Candyman series of films. The 2020 film is directed by emerging talent Nia DaCosta (Little Woods).
Candyman (2020) – Official Synopsis
For as long as residents can remember, the housing projects of Chicago's Cabrini Green neighborhood were terrorized by a word-of-mouth ghost story about a supernatural killer with a hook for a hand, easily summoned by those daring to repeat his name five times into a mirror. In the present day, a decade after the last of the Cabrini towers were torn down, visual artist Anthony McCoy and his girlfriend, gallery director Brianna Cartwright, move into a luxury loft condo in Cabrini, now gentrified beyond recognition and inhabited by upwardly mobile millennials.
With Anthony's painting career on the brink of stalling, a chance encounter with a Cabrini Green old-timer (Colman Domingo; HBO's Euphoria, Assassination Nation) exposes Anthony to the tragically horrific nature of the true story behind Candyman. Anxious to maintain his status in the Chicago art world, Anthony begins to explore these macabre details in his studio as fresh grist for paintings, unknowingly opening a door to a complex past that unravels his own sanity and unleashes a terrifyingly viral wave of violence that puts him on a collision course with destiny.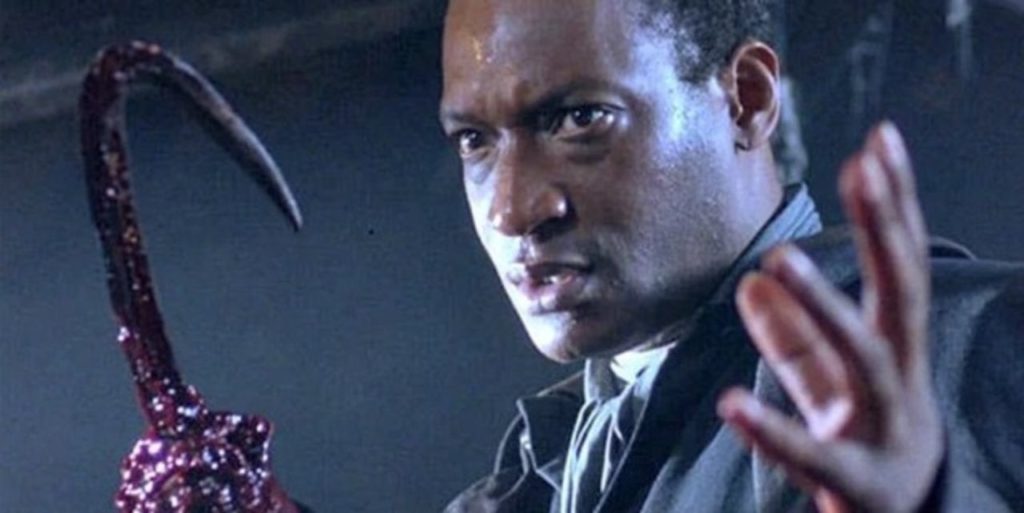 Who is Candyman in the urban legend?
So, as per the legend, if you look into a mirror and chant the name 'Candyman' five times, a terrifying figure – the ghost of an African-American man will appear behind you and will kill you with a long hook.
In fact, the story goes back to the brutal days of slavery, when the character Candyman was a real human with the name Daniel Robitaille. He was the son of a slave who was working on a plantation of a wealthy landowner in New Orleans. Daniel was a prolific painter who was asked by the plantation owner to paint the portrait of his daughter. But Daniel fell in love with the daughter of the white landowner.
When the racist landowner came to learn about the love affair, he sent an angry mob to drive Daniel out of the town. They eventually caught him, cut off his right hand, covered him in honey, and threw him into a beehive. Before dying of unbearable pain, Daniel cursed everyone that he would return to take his revenge. Then Candyman returns to avenge his death whenever anyone calls his name five times.
Where to watch Candyman (2021)
Disclaimer: The images and/or videos used are not owned by Cinecelluloid. No copyright infringement intended.