Nicolas Cage and Elijah Wood's "THE TRUST" is as engaging and comic as it builds for an unlike moment of truth in the end. I know most these days many of us don't expect much from a Cage film. However, knowing the fact that he is an Academy Award-winning actor (Leaving Las Vegas), there is a high likelihood that you get that uncanniness in his performances. Nevertheless, this one indeed gave him some scope to perform, at least I feel so. 
THE TRUST starts with Jim (Cage) and David (Wood) who work as two dismal cops doing their routine job in Las Vegas. As they don't actually enjoy their job, anything slightest stimulating would certainly give them a go. And hence the day comes when Jim finds some clue to a possible stash of cash involving some drug dealer.
Wishing to make a fortune by getting access to a large amount of money, they both teamed up for their unofficial undercover work. As they follow up with every possible man involved, they come to discover the source of the money – hidden in a large vault in the back of an industrial freezer in a small grocery store. Hoping it was an easy-peasy job, they planned to rob safe. But by the time they jump their gun and know what the mysterious vault contains, it's already too late to turn back. 
Watch the movie trailer – THE TRUST
COMMENT: THE TRUST is indeed one of those films where everything seems to be alright in a sluggish narrative. The best part of the film is the chemistry between those two nobody cops who with their distinct characteristics make it a bit quirky that ends at a high point. Cage's character is all over the place with his sense of weirdness while Wood's role is more curious and grounded.
Well, to be frank, the narrative never had any scope for any supporting cast. Its director duo could have delved a little deep into characterization. No doubt, Nicolas Cage is on the spot, but probably the sense of not having a definite plotline pulls the film backward. Of course, there is the story of two cops who dream to become rich overnight but why they jump into such a dangerous track is questionable.
Starring: Nicolas Cage, Elijah Wood, Sky Ferreira, Jerry Lewis, Steven Williams, Kevin Weisman
Directed by: Alex Brewer, Ben Brewer
Writers: Benjamin Brewer, Adam Hirsch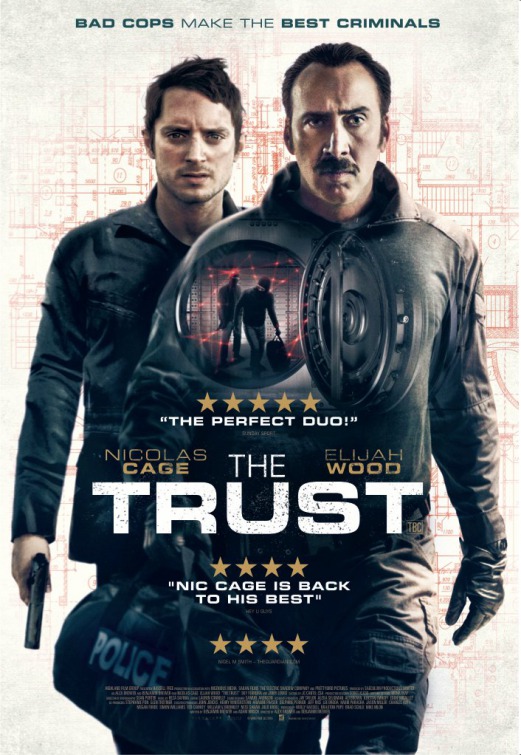 Where to watch The Trust (2016)
Disclaimer: The images and/or videos used are not owned by Cinecelluloid. No copyright infringement intended.