THE SURVIVALIST is a story about a man who has managed to confine himself in a forest for seven years in a post-apocalyptic world where starvation is rampant. The man now must face some more reality when strangers join him, amid distrust and scarcity of resources, thanks to his survival skills and crops that he can grow in his secret place away from anyone's reach.
In his debut feature film, Irish filmmaker Stephen Fingleton masterfully crafted his distressing dystopian vision into a cinematic brilliance that will stay with you for a long time. With minimalistic dialogues and a secluded hut deep in the forest, the director creates tension, thrill, and confusion by allowing his characters to speak loudly in their silence.
Synopsis:
In a kill-or-be-killed world where starvation is rife and strangers are always dangerous, THE SURVIVALIST lives off the grid, and by his wits. When a starving woman and her teenage daughter discover his forest refuge, his loneliness drives him to overcome his suspicion and strike a bargain with them in return for bed and board. But as desire becomes stronger than necessity, the exchange becomes an uneasy, ongoing arrangement that threatens his carefully constructed world and his life.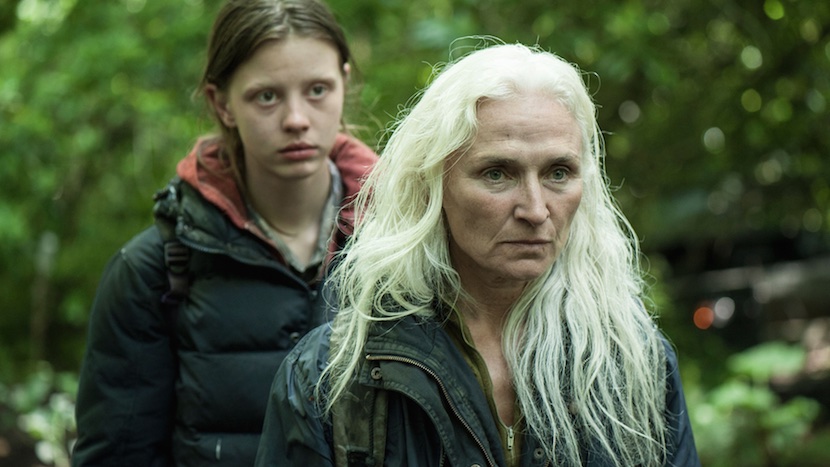 THE SURVIVALIST is a terrifyingly realistic depiction of a post-collapse landscape. It accentuates human animalistic behavior in every way. The deep-rooted silence in the forest suggests nature's decay, and a simple graphical detail at the film's beginning depicts the rapid growth and decline of the world's oil supply and consumption. What follows is the story of three characters who broke their agreement to stay together until there is no grid and no outside interference.
Genre: Drama
Runtime: 105 Min
Cast: Martin McCann, Mia Goth, Olwen Fouéré
Country, Year: UK, 2015
Direction & Screenplay: Stephen Fingleton
Cinematography: Damien Elliott
Editor: Mark Towns
Distributor(s): Bulldog Film Distribution Ltd
Where to watch The Survivalist (2015)
Disclaimer: The images and/or videos used are not owned by Cinecelluloid. No copyright infringement intended.