Recently, I got to watch this Majid Al Ansari-directed film Rattle the Cage, also known as Zinzana (meaning "prison cell" in Arabic), on Netflix and must say that this is one of the amazing flicks I have watched in recent times. So far, there are only a few movies sought in a single room throughout, yet captivating enough to catch your attention.
Starring Saleh Bakri and Ali Suliman, Rattle the Cage talks about a man, named Talal (Saleh Bakri), who is been locked up after a brawl with a man in some parking lot (this is what you get to know in the first couple of scenes inside the police station).
As he tries to get in touch with his ex-wife to get himself out on bail, a new cop "Deputy Dbaan" (Suliman) comes in and creates an atmosphere filled with confusion and horror.
Staying behind bars, he finds himself helpless, and when the cop turns out to be a psychopath, Talal has no other option but to be a puppet to the whims and fancies of the madman in order to save his family.
Set in a prison in an unknown part of the Arab world, Rattle the Cage represents the new age cinema with its documentary-style filming and realistic performances.
As the movie progresses, you get to know two personalities: Talal as a former alcoholic trying hard to come back to a respectable life, and Dbaan – a cartoonishly-evil character with an antisocial personality disorder.
Al Ansari has done his best by keeping the characters right in line with the mysteries. Looking at the cultural differences in different parts of the world, many might feel the performances a little overboard, but nonetheless, it has stood out in creating that claustrophobic space with an interesting narrative.
Lastly, the film Rattle the Cage (Zinzana) is certainly a world-class neo-noir thriller coming out of the United Arab Emirates. I just hope it gets a wider audience.
Watch the Movie Trailer – Rattle the Cage / Zinzana
Genre: Crime and Thriller
Cast: Ali Al Jabri, Saleh Bakri, Ali Suliman, Ahd Kamel, Abdullah Bou Abed, Mansour Al Feeli, Yasa Jumahh and Eyad Hourani.
Director: Majid Al Ansari
Producer: Rami Yasin
Scriptwriter: Ruckus Skye, Lane Skye
Cinematographer: Colin Lévêque
Release Date/Year: December 10, 2015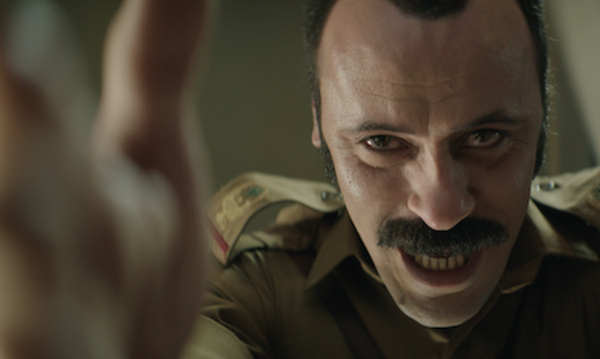 Disclaimer: The images and/or videos used are not owned by Cinecelluloid. No copyright infringement intended.