Many times the idea behind a movie prequel is more interesting than a sequel. The popular horror film franchise 'Insidious' in its third installment has proved it yet again with an engaging plot. While I must say that I liked the first part and not much the second, 'Insidious: Chapter 3' is certainly terrifying, in which veteran actress Lin Shaye plays a central character.
In this prequel, the story goes back to the events before the Lambert family hauntings (featured in the first two parts). Here we have a teenage girl Quinn Brenner (Stefanie Scott), who is living with her father and younger brother, whose mother has recently died of cancer. Quinn who aspires to be an actor often tries to contact the soul of her deceased mom and finally ends up at the door of Elise Rainier (Lin Shaye), known of her ability to reach out to the dead.
Elise although had stopped any such contact with the supernatural being, listening to the story of Quinn, she agreed to help her but only to be terrified by the presence of some demonic entity. She even warned Quinn, "Do not do this yourself. If you call out to one of the dead, all of them can hear you". However, Quinn still feels that some supernatural being tries to contact her and believes it to be her mother.
One day while Quinn was walking on the street, she saw someone in distance waving towards her and upon distraction, she met an accident that leaves her in a wheelchair with broken legs. As she is recovering at home, she starts experiencing ghostly presence, even with physical manifestations, that eventually threaten her life. This led her dad Sean (Mulroney) to contact Elise and a self-styled ghostbuster pair who are supposed to save Quinn's life before she is taken away by the evil supernatural entity.
This way, the story looks really fine with the vision of writer-director Leigh Whannell. However, if there is anything wrong in this movie, I must point out those few useless scenes where the ghost physically assaults Quinn and even tries to kill her, leaving her with fractured legs. I mean this much violence was in no way necessary.
Nevertheless, the acting of Shaye as well as the creation of that dark atmosphere, termed as The Further, together lifts the movie from its gloomy moments. Stefanie, as the girl who is possessed, brings realism to her performance. Overall cinematography was good in creating such a spooky atmosphere with an air of terror that further justifies the paranormal activities.
In the end, we must say that 'Insidious: Chapter 3' may not be the scariest one, and it has its share of cliché elements and even has an emotional angle, but you still can give it a try with its flaws.
Watch the movie trailer of "Insidious: Chapter 3"
Insidious: Chapter 3 (2015)
Genre: Horror
Starring: Dermot Mulroney, Stefanie Scott, Tate Berney, Angus Sampson, Leigh Whannel, and Lin Shaye
Directed by: Leigh Whannell
Release Date: June 5, 2015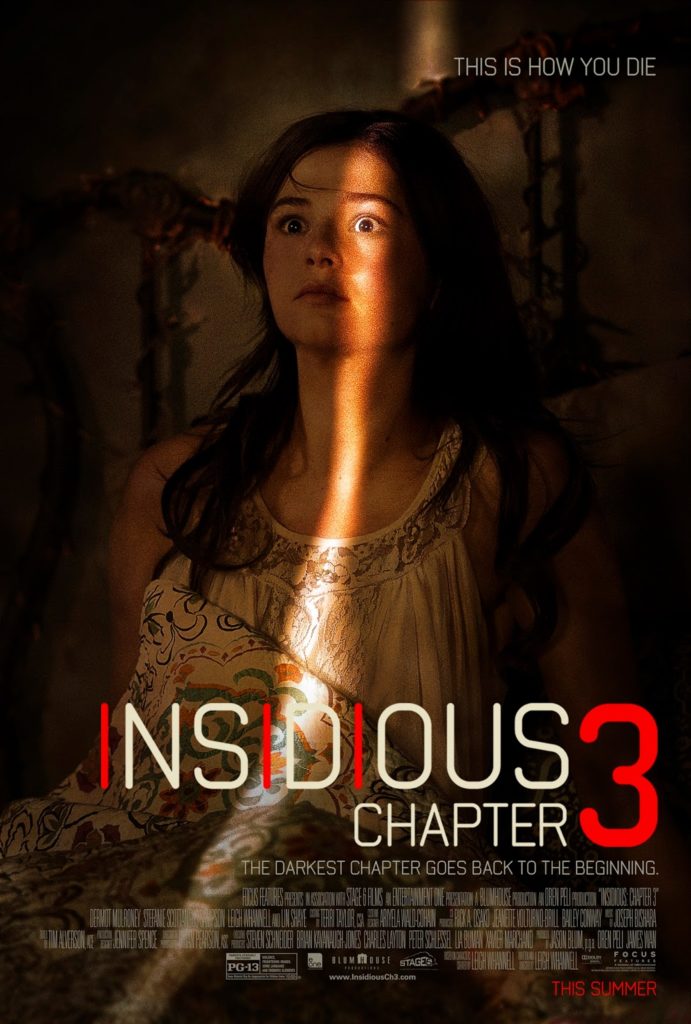 Where to watch Insidious: Chapter 3 (2015)
Disclaimer: The images and/or videos used are not owned by Cinecelluloid. No copyright infringement intended.