After watching The Babadook, I can easily say that there are still actors who can take a simple story to a different level with their exceptional performances. Jennifer Kent's psychological horror tale The Babadook may not be the conventional horror film you would like to watch as a big-time horror movie buff, but the idea to bring horror out of a given situation in a simple plot makes it different.
Well, you may very well argue on the so-called chilling moments but if a movie with no jump-scare moments, as identified with horror movie clichés, can create a terrifying atmosphere then there is no more accomplishment the makers could have asked for.
However, what's disappointing for me is that The Babadook did not really come out of its own traps with absolutely no explanation on the Babadook creature/character and also the climax that doesn't make any sense.
So, here is the outline of the story in The Babadook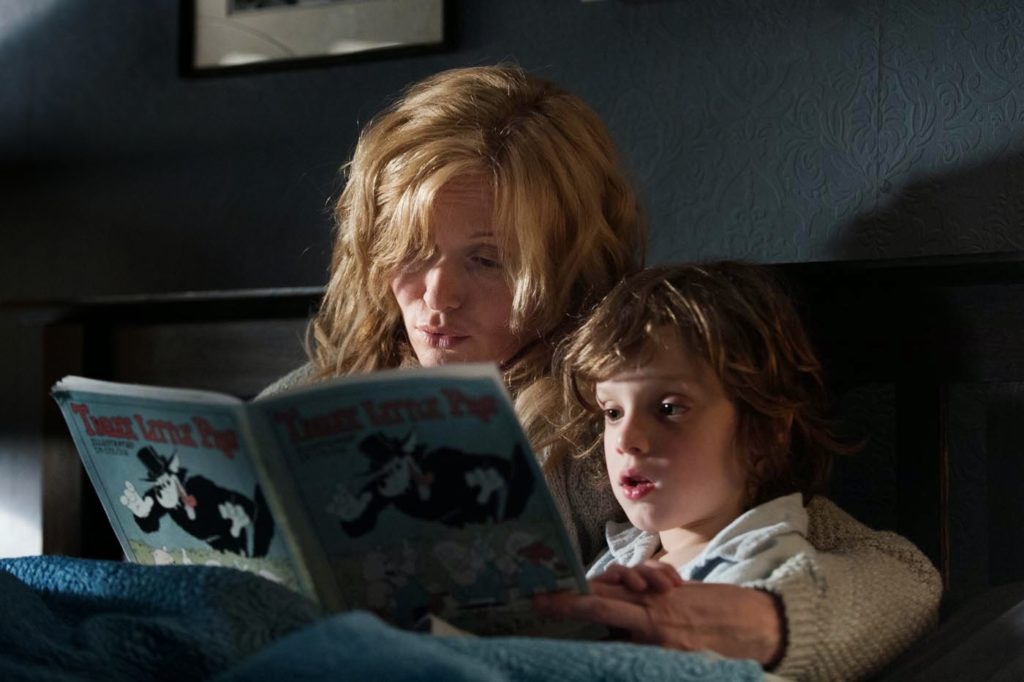 Amelia after losing her husband Oskar, on the way when he was driving her to the hospital to give birth, has been struggling to raise her son Samuel who is constantly plagued with the thought that there is a monster who will come and kill them. He even makes homemade weapons to fight the monster if ever he faces in real.
While Samuel lives with his nightmarish experience, his mother finds it difficult to cope with his weird nature, often rigid and violent. This becomes unmanageable for Amelia when a strange children's storybook named Mister Babadook appears on Samuel's bookshelf. The three-dimensional layout inside the book catches the attention of Samuel but that turns out to be the actual source of evil, constantly haunting the dreams of mother and son alike. Amelia tried to keep the book away from his child by literally destroying it, but it comes back to stretch the horror even further.
Director Jennifer Kent very intelligently sketched the scenes with old-fashioned sound and shadow play tricks. Nevertheless, it's the acting of the young Noah Wiseman as Samuel and Essie Davis as a distressed mother that takes the horror movie to a different level. As I said earlier, my disappointment is more on the treatment of the story which could have been much better.
Starring: Essie Davis (as Amelia), Noah Wiseman (Samuel), Daniel Henshall (Robbie), Hayley Mcelhinney (Claire), Barbara West (Mrs. Roach), Ben Winspear (Oskar)
Directed by: Jennifer Kent
Genre: Horror, Psychological Thriller
Released year: 2014
Watch the trailer of The Babadook here on YouTube
Where to watch "The Babadook" (2014)
Disclaimer: The images and/or videos used are not owned by Cinecelluloid. No copyright infringement intended.