PINK, directed by Aniruddha Roy Chowdhury, is one of the best message-driven films to come out of the Hindi film industry. Given the prevalence of rape, sexual harassment, and numerous cases of female harassment across the country, 'PINK' sheds light on our psyche and the reality of our society. The film also cast actors such as Mr. Amitabh Bachchan and Taapsee Pannu in lead roles, who justified their characters and added a solid punch to the storyline.
Let me now summarize the story. PINK follows three independent Delhi girls, Minal, Falak, and Andrea, who are now all confused and terrified after inflicting serious injury on a man named Rajveer who attempted to molest one of them at a party they all attended together. Now, all three girls must figure out how to deal with the guys who are from the so-called powerful and wealthy class of society.
The incident occurs when all three girls, with the sole intention of having a regular night of fun, meet three guys and accept a dinner invitation in some Surajkund resort. The evening later gives these girls nightmares as they realize the evil intentions of their male friends. Minal strikes Rajveer with a bottle in self-defense, causing him to bleed, and the girls flee the scene.
That's not all. To exact revenge on the girls, Rajveer harassed them in various ways before filing a false FIR against them and labeling them as prostitutes. As the girls struggle to cope with their situation, retired lawyer Deepak Sehgal (played by Mr. Bachchan) takes their case and brings some of the film's finest moments with their courtroom battle that not only proves the point on behalf of those girls but also talks about women and their rights in general.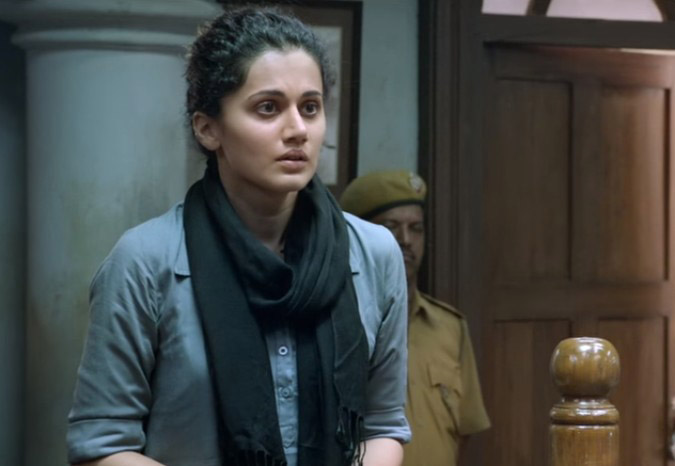 Sehgal, with a deadpan expression on his face, demonstrated in court why we must all stand up for women and their rights to live their lives as they see fit. PINK in many ways exposed our current patriarchal society and how girls and women suffer at the hands of not only criminals but also male members of our society who have no sense of women's rights and justice.
Overall, the movie is a must-watch. With such an impressive storyline and some outstanding performances, PINK will be remembered for a long time. And the best point of the film, as Mr. Bachchan correctly stated, is the essence of 'NO' – the importance of listening to and obeying a woman's 'NO.'
PINK does not discuss morality because the female characters are not afraid to admit they are in relationships and are not ashamed to admit they are not virgins. They represent new-age working-class females with self-esteem and dignity, as well as the freedom to live their lives as they see fit. In most cases, the film proved its point. Then we shouldn't expect everything in a film that lasts 2 hours and 16 minutes.
Cast: Amitabh Bachchan, Taapsee Pannu, Kirti Kulhari, Angad Bedi, Andrea Tariang, Piyush Mishra
Direction: Aniruddha Roy Chowdhury
Screenplay: Ritesh Shah
Story: Shoojit Sircar, Ritesh Shah, and Aniruddha Roy Chowdhury
Cinematography: Abhik Mukhopadhyay
Music: Shantanu Moitra, Anupam Roy
Release date: September 16, 2016
Country: India
Language: Hindi

Watch the movie trailer of PINK




Director Aniruddha Roy Chowdhury's 'Pink' – starring Amitabh Bachchan and Taapsee Pannu – won the Best Film On Social Issues at the 64th National Film Awards. (Updated – April 7, 2017)
Where to watch Pink (2016)
Disclaimer: The images and/or videos used are not owned by Cinecelluloid. No copyright infringement intended.