So, here is the first trailer for 'X-Men: Apocalypse' and this looks epic. This slick movie trailer just gives us a glimpse of what we can expect in the summer release. This is war, this is an apocalypse, and only the strong will survive, as the superhero team will come face to face against the fearsome opponent yet. 
Director Bryan Singer returns after the critically acclaimed and global hit 'X-Men: Days of Future Past' (2014); the 'X-Men: Apocalypse' is the sequel to the Days of Future Past and the third film in a trilogy that started with 'X-Men: First Class.' However, it is the 9th film in the overall X-Men film series. The film is set for release on May 27, 2016.
You can check out the movie trailer in the player below.
Apocalypse, the first and most powerful mutant from Marvel's X-Men universe, amassed the powers of many other mutants, becoming immortal and invincible. Upon awakening after thousands of years, he is disillusioned with the world as he finds it and recruits a team of powerful mutants, including a disheartened Magneto (Michael Fassbender), to cleanse mankind and create a new world order, over which he will reign. As the fate of the Earth hangs in the balance, Raven (Jennifer Lawrence) with the help of Professor X (James McAvoy) must lead a team of young X-Men to stop their greatest nemesis and save mankind from complete destruction.
Watch the movie trailer – X-Men: Apocalypse
Starring: James McAvoy, Michael Fassbender, Jennifer Lawrence, Oscar Isaac, Nicholas Hoult, Rose Byrne, Tye Sheridan, Sophie Turner, Olivia Munn, Lucas Till, Evan Peters, Kodi Smit-McPhee, Alexandra Shipp, Josh Helman, Lana Condor, Ben Hardy.
Director: Bryan Singer
Genre: Action/Adventure
Cinematography Newton Thomas Sigel
Released Date/Year: May 9, 2016 (London); May 27, 2016 (United States)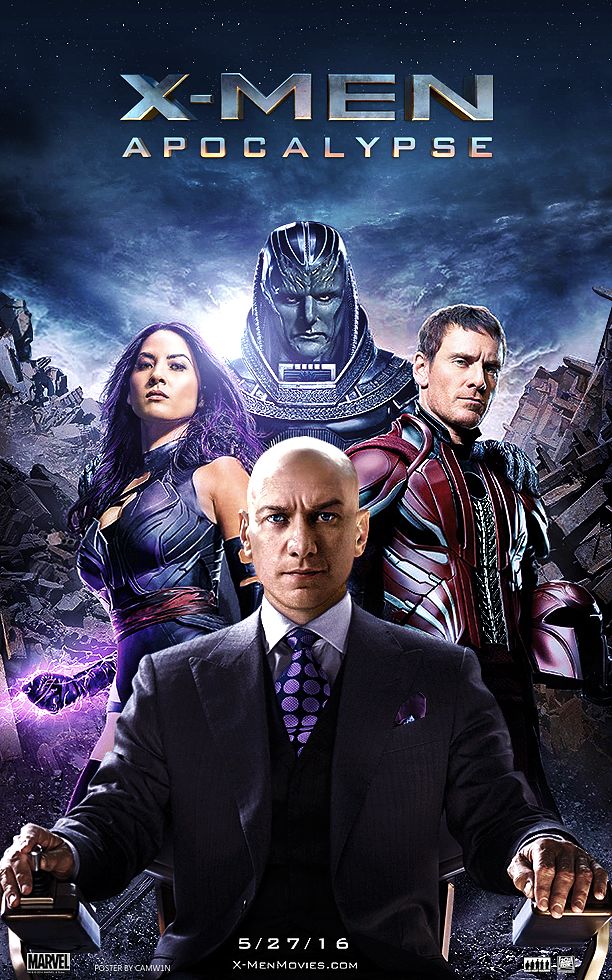 Where to watch X-Men: Apocalypse (2016)
Disclaimer: The images and/or videos used are not owned by Cinecelluloid. No copyright infringement intended.