Movie News
Get some of the most relevant and latest updates and news related to cinema, films, TV shows and movie industry in general.
July 28, 2018
Last updated on July 30th, 2018 at 01:07 pmThe creator of "The Babadook", Jennifer Kent brings her second feature film, The Nightingale. The film will be premiered at the Venice International Film Festival where she is the only female filmmaker to have a film in the 75th edition of the competition. Set in the 1820s, […]
Read More
July 17, 2018
The much-anticipated untitled film on Joker's origin with Joaquin Phoenix in the lead, has finally got a go-ahead from Warner Bros. While it was always in talks, the arch-nemesis of Batman finally has got its standalone movie. The filming is scheduled to begin in September. In the most recent movie, the Clown Prince of Crime […]
Read More
June 23, 2018
Netflix has announced that it will stream the anthology animated film Shikioriori (Poem of Seasons Woven Together) international titled – Flavors of Youth starting August 4, 2018. Directed by Yoshitaka Takeuchi, Li Haoling, Jiaoshou Yi Xiaoxing, and produced by Noritaka Kawaguchi, the film will be premiered at Anime Expo in Los Angeles on July 6. […]
Read More
June 15, 2018
Advertised as 'the darkest chapter' in The Conjuring + Annabelle film series, The Nun is probably going to be yet another scary-fest from the makers who mastered this genre. The first trailer of the upcoming film just hit internet and this looks frightening. Please watch the movie trailer below, and then we will discuss more […]
Read More
May 1, 2018
For all the horror movie buffs, here is the good news – the third movie in the Annabelle franchise, a sequel to the Annabelle Creation has been announced. As per reports this movie will open on July 03, 2019. This is over a year of time to wait, but James Wan and New Line Cinema […]
Read More
March 5, 2018
Take a look at who won at the 90th Academy Awards, held at the Dolby Theatre in Los Angeles, in different categories . Well, for some it's no surprise as the nominated films are all great in their own respect. Guillermo del Toro's fantasy thriller The Shape of Water wins the Best Picture leaving behind Get […]
Read More
October 31, 2017
Watch Ventana – a beautiful short film created by Walt Disney Animation Studios Summer Interns 2017. In the world of animation, one name stands tall and i.e. Disney. The Walt Disney Animation Studios has been known for its motion pictures that are benchmarks in setting standards for animation. The Talent Development program in Disney gives […]
Read More
October 8, 2017
The Crucifixion follows a young investigative journalist Nicole Rawlins (Sophie Cookson) who tries to go deep into the death of a young nun as result of an exorcism by a local priest, she comes in contact with Father Anton (Corneliu Ulici) to determine whether the jailed priest murdered a mentally ill person or he lost […]
Read More
May 31, 2017
Last updated on June 12th, 2017 at 09:43 pm As per reports, the new biblical biopic Mary Magdalene, directed by Garth Davis, is set for a November release. With an impressive cast, we can only expect some the finest performances to justify the scriptural tale of Mary the Magdalene – one of the prominent figures […]
Read More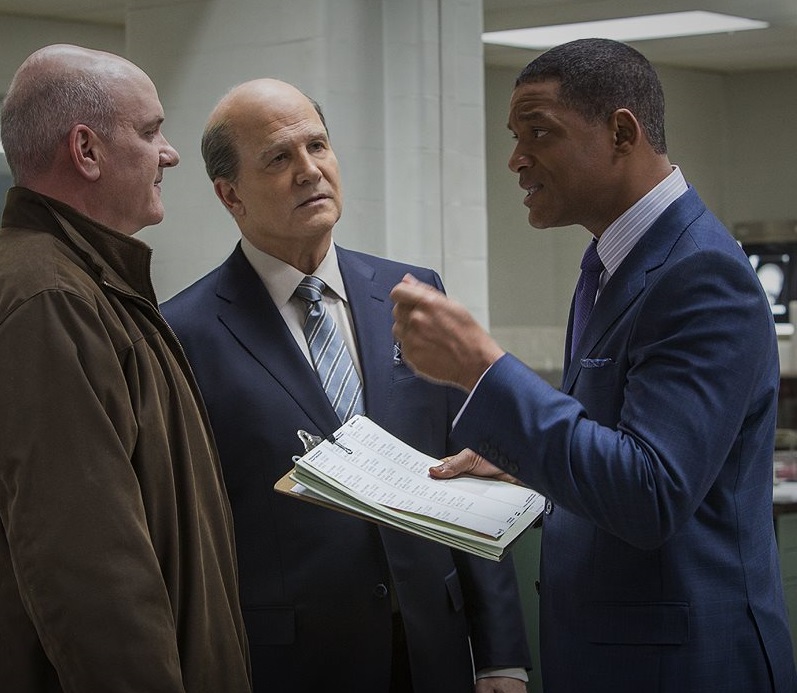 April 30, 2017
Last updated on June 12th, 2017 at 11:11 pm Concussion by definition is an injury to the brain caused by violent blow; usually resulting in loss of consciousness. In the 2015 film 'Concussion' Will Smith stars as Dr. Bennet Omalu, a forensic neuropathologist who finds himself in direct conflict with the National Football League (NFL) when his […]
Read More
Copyright © 2019 Cinecelluloid - A website about films, latest movie news, movie reviews, movie releases, TV series, must watch films, movie trailers, upcoming movies, Hollywood, Bollywood, international films and more.
Powered by
WordPress
|
Bootstrap Themes