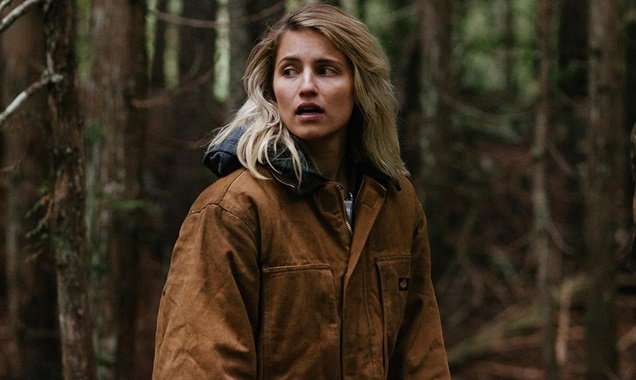 Scooter Corkle's debut directorial venture Hollow in the Land (2017) has everything you're looking in a firmly paced thriller. With an amazing performance by its lead actor Dianna Agron, as Alison, the film follows two siblings whose father is in prison in a murder case, and now they must fight to clear their names from a string of murder in their locality for which they are considered instant suspects.
YOU MAY READ THROUGH; NO SPOILER AHEAD.
Hollow in the Land is a very unlikely thriller with no big cast, and that too a women oriented film. The film portrays Dianna's character Alison as a headstrong woman with zeal to take care of her brother Brandon at any cost, even though both her father and brother have done little to keep their family name up high.
The film is set in a remote small town in Canada where Alison lives with her troublesome brother after her mother long gone, and father finds himself behind bars. Under suspicious circumstances when Brandon absconds after the murder of his girlfriend's father, cops finds enough evidence to put him behind bars.
Considering the nature of Brandon who can't commit such a crime, Alison takes it to herself to uncover the truth. She tries to contact every other person who could possibly give some kind of clue of the presence of a third person at the crime scene other than Brandon.
Watch the Trailer – Hollow in the Land


The movie has done everything right to keep the suspense and situation on tenterhooks. Hollow in the Land has its moments with good performances from its supporting cast, as well as a very nice cinematography. The movie is also very sharp in terms of storytelling, characterizations and creation of a strong atmosphere to keep the tension alive.
While we must give credit to the director for bringing a number of strong female characters, it's safe to say that Hollow in the Land is Dianna Agron's show. She delivers an amazing performance, and the end result would not have been that compelling without her performance.
Hollow in the Land is indeed one of the finest thrillers of 2017. So, if you've not watched it yet, give it a try — you would not be disappointed.

Genres: Thriller, Drama, Mystery
Actors: Dianna Agron, Rachelle Lefevre, Shawn Ashmore, Jared Abrahamson
Director: Scooter Corkle
Release Year: 2017