Last updated on April 28th, 2018 at 01:13 pm
So after a long wait Into the Badlands Season 2 of  is now available on AMC – airs Sundays at 10 p.m. ET/PT. The martial art series that had a great run in the first season with an intriguing storyline and high action drama, is taking the story forward with Sunny now imprisoned in a very unlikely place and the boy wonder M.K. too is in with some unknown group trying to control his extraordinary power. While Sunny is trying go back into the Badlands to find his family, there is a lot more happening among the Barons – as the Widow continues to dominate others.
Season 2 looks promising as the story progresses in each episode. So, let's have a look at what's exactly happening in each episode. As the series is in progress, we don't have complete information for all the episodes, so we can only review those already aired on AMC.
Into The Badlands – Season 2, Episode 1 – "Tiger Pushes Mountain"
Six months after the Season 1 finale, Sunny finds a new foe, as well as a new, unexpected ally, while M.K. learns about his gift in a mysterious place.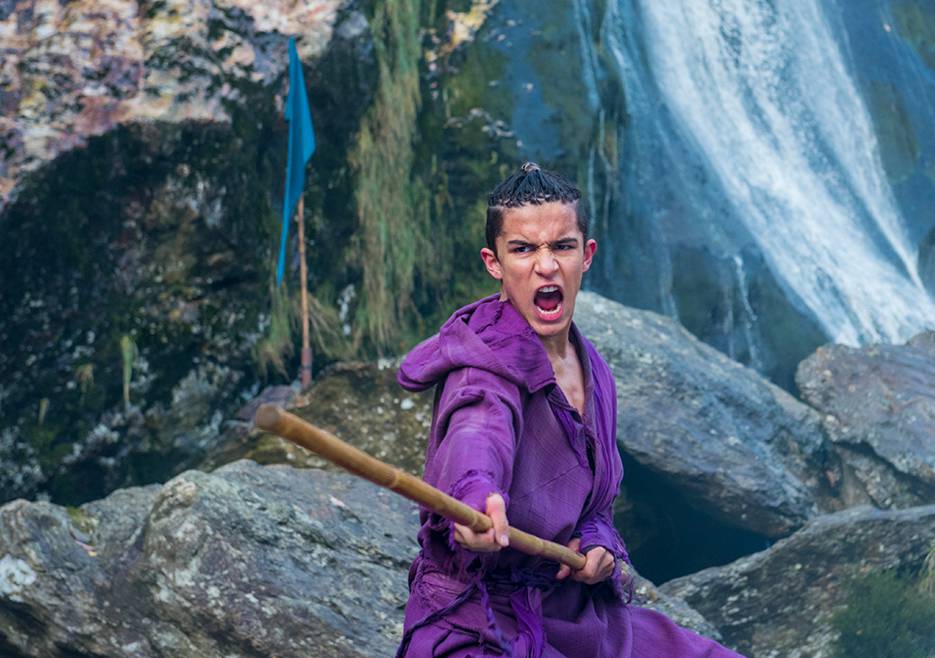 Review: If we go back to the last episode of season 1, Sunny left his Baron Quinn and failed to save his protégé M.K. (Aramis Knight) from the hands of some mysteriously powerful men. At the start of this season we see Sunny imprisoned and enslaved as a miner. He finds an unlikely confidant Bajie (Nick Frost) with whom he tries his luck to escape the prison. On the other side, M.K. is getting trained by an unknown group led by a nun to control his anger. In the Badlands, while Ryder (Oliver Stark) is busy taking over the reign of Quinn, The Widow (Emily Beecham) is in force to reclaim her land.
The Episode 1 looks interesting with new settings and few new characters. It kind of channelizes the old characters with their new status. The general look and feel of the episode suggest a lot more action and drama to come in the next episodes. Considering the introductory nature of the first episode, it is slow paced with not much action other than one fight scene at the start. One thing is sure that this time 'Into the Badlands' will not revolve around Quinn's family, rather much more with expected new angles to the storylines. While Daniel Wu is convincing with less dialogues, Frost is excellent with timely humor.
Into The Badlands – Season 2, Episode 2 – "Force of Eagle's Claw"
While Sunny and Bajie struggle to stay alive, The Widow faces challenges as she consolidates her power, and M.K. discovers secrets about his past.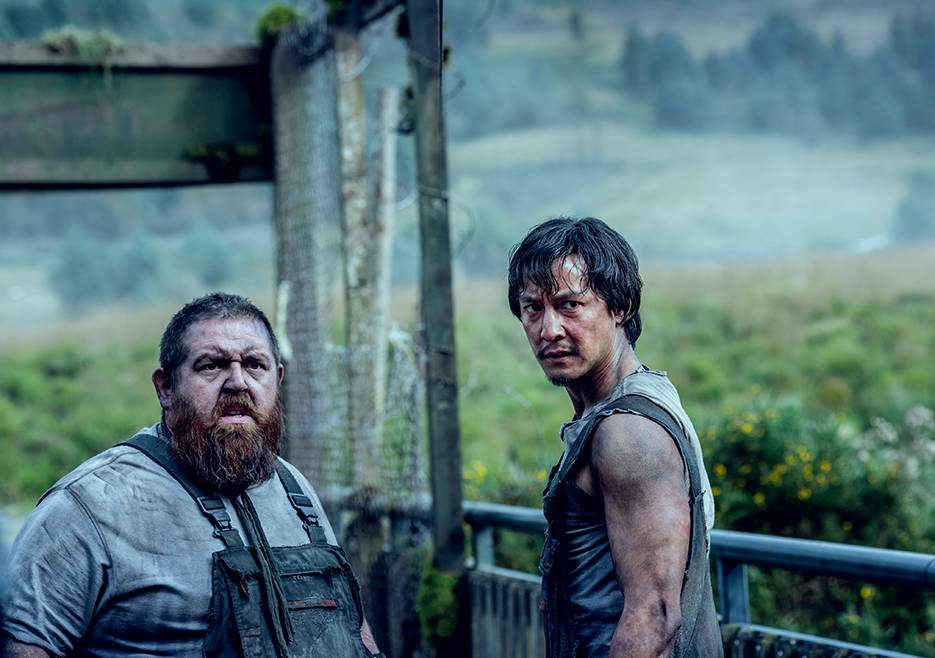 Review: The second episode takes forward the hot and cold relationship between Sunny and Bajie as they struggle to survive but eventually comes out of the Bordo mines. However, their struggle to head towards the Badlands is not that easy as they find. Meanwhile, M.K. continues his effort to control his power, and on the way he meets his biggest fear. At times, M.K.'s pursuit turns enlightening and that is well picturized in the hall of mirrors. The introduction of his master is also promising as she guides M.K. to face his darker side.
In another side, we get to watch Baron Quinn's wife Lydia (Orla Brady) who is now in her father's spiritual abode but her spiritual non-violence self comes to test when she faces a group of nomads in order to save her father and others in the clan. Meanwhile, Ryder tries to fix a meeting with all other Barons and The Widow in order to have a common stand against the Widow. This episode also gives an update on Quinn and how he is now taking care of Veil and Sunny's child.
Into The Badlands – Season 2, Episode 3 – "Red Sun, Silver Moon"
Sunny and Bajie encounter a dangerous foe who knows Sunny all too well. The Widow prepares for a deadly showdown, while M.K. learns a terrible secret.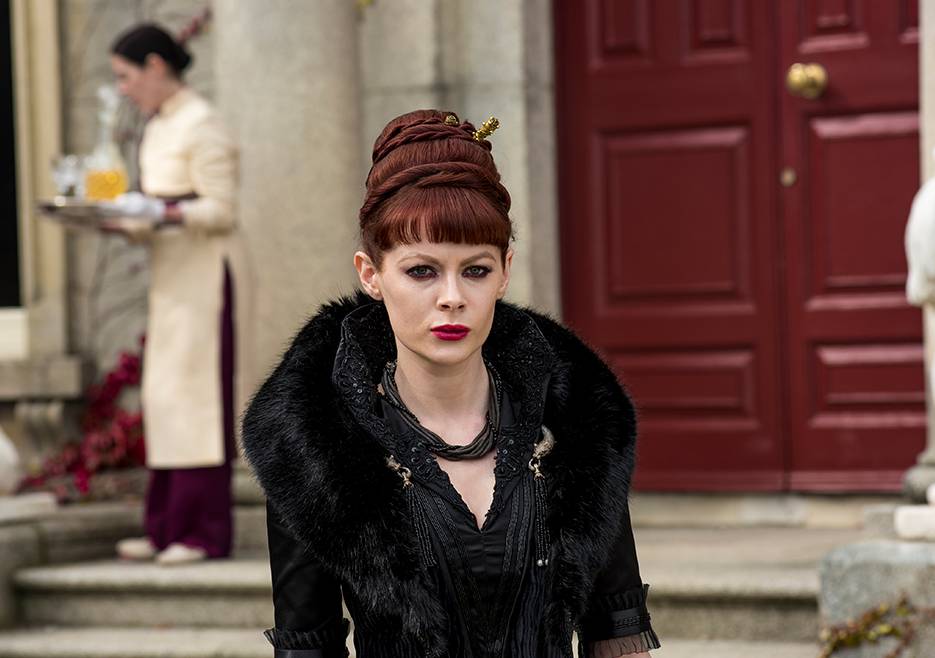 Review:

In the last episode we saw Sunny and Bajie after escaping from the prison and then a long stretching barren land, come across a huge wall that separates the other world from the Badlands. Here they finally found a bridge to go past the wall and also another clipper named Moon who like Sunny had left his violence-filled life for his family. But he too could not survive the ill fate and eventually found himself stranded in the middle.

Well, this episode is indeed great in introducing a new character with Moon and through light how a clipper's past certainly stays with him forever and why they cannot make a normal life – although Sunny feels otherwise. On M.K.'s side we also see that the group of monks are up to something by keeping all those kids with extraordinary power. Meanwhile, the Widow and the wheelchair-bound Waldo are up for a possible bloody encounter with other Barons, as they meet for a power-sharing deal.
REVIEW & DETAILS AWAITED FOR THE FOLLOWING EPISODES:
Into The Badlands – Season 2, Episode 4 – "Palm of the Iron Fox"
The Widow's fight for power puts her in an epic showdown with her enemies who have joined forces against her, while an old threat resurfaces.
Into the Badlands Season 2, Episode 5: "Monkey Leaps Through Mist"
Sunny and Bajie get help from an unlikely source, but it comes with a price. The Widow considers a risky gambit, while MK enacts a dangerous plan.
Into the Badlands Season 2, Episode 6: "Leopard Stalks in Snow"
Sunny and Bajie encounter an unexpected friend, but must also confront an unbeatable enemy from their past, while The Widow makes an unholy alliance.
Into the Badlands Season 2, Episode 7: "Black Heart, White Mountain"
Sunny confronts his inner demons while his friends struggle to help him. The Widow exacts revenge on her enemies with help from a new, deadly partner.
Into the Badlands Season 2, Episode 8: "Sting of The Scorpion's Tail"
Sunny plays a dangerous game, causing his friends to question his loyalty. The Widow discovers the existence of a new weapon as her alliance falters.
Into the Badlands Season 2, Episode 9: "Nightingale Sings No More"
In the penultimate episode, Sunny relies on an unlikely person to help him defeat a common foe, while Bajie discovers a shocking secret from his past.
Into the Badlands Season 2, Episode 10: "Wolf's Breath, Dragon Fire"
In the bloody season finale, Sunnny faces the toughest showdown of his life, while Bajie's loyalties are tested to their limits.
Genres:
Action, Adventure, Drama
Actors:
Daniel Wu, Orla Brady, Sarah Bolger, Aramis Knight, Emily Beecham, Oliver Stark, Madeleine Mantock, Ally Ioannides, Marton Csokas, Daniel Burford
Directors:
Alfred Gough, Miles Millar
No. of Episodes:
10

Release:
2017
Watch Into the Badlands Season 1, 2 and 3 on Amazon Prime Video.
[Photo Courtesy: www.facebook.com/IntoTheBadlandsAMC/]